World news story
Celebrating International Day of Democracy in Hungary
British Embassy in Budapest is proud to support a British-Hungarian NGO peer exchange programme to promote democratic values.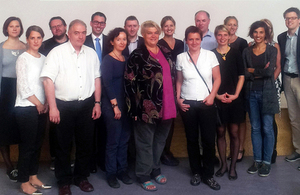 The 15th of September is designated by the United Nations as International Day of Democracy (IDD). It has been marked each year since 2007. Every year the UN chooses a special theme and focus for this day which this year it is "Space for Civil Society".
The UK long has been a champion of democratic values and Civil Society and British Embassies around the world work hard to promote these values. British Embassy Budapest is no exception. Last year, together with four other diplomatic missions, the Embassy co-organised and hosted a civil society capacity building conference the aim of which was to help small, Hungarian NGOs to get to know and share experiences with civil organisations with similar profiles from across Europe. The event was a big success and over 60 Hungarian organisations were represented.
Building on the outcome of the conference, in 2016 British Embassy Budapest teamed up with the London based Euclid Network, which has a strong track record of networking, peer learning and policy impact in the civil society and social enterprise arenas. We developed a project, the aim of which was twinning Hungarian NGOs with British ones that cover similar or the same issues/area. This grants the Hungarian participants with the opportunity to learn firsthand experiences and best practises from more experienced organisations. This also helps them to enlarge their international network, to adopt these practises at home and also, to share these experiences with other Hungarian organisation (so it could have a trickledown effect locally).
The last phase of the project is taking place in Scotland this week. In the first three days the Hungarian NGO representatives will spend time at their partner organisations in the UK (most of which are actually in Scotland). On IDD we'll open a concluding conference for participants in Edinburgh, which sums up the knowledge acquired during the programme and helps them decide how exactly to build on them.
British Embassy Budapest is proudly commemorating IDD and is pleased to support the diverse Hungarian civil society.
Published 16 September 2016