News story
Celebrating English Tourism Week
Get involved online to discover a range of tourism career opportunities.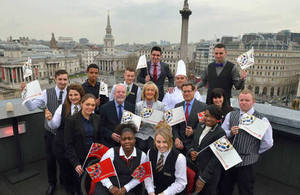 This week the Department for Culture, Media and Sport (DCMS) and The Tourism Industry Council are joining forces to mark English Tourism Week through a weeklong social media campaign.
The week will highlight the breadth of fulfilling jobs on offer across the industry, showcasing why tourism is such an exciting and rewarding area to work in and forge a long-term career.
Get involved
Throughout the week there's lots to get involved in, including:
#TourismChat on Twitter
On Tuesday 17 March between 2-3pm join our live #TourismChat on twitter led by @DCMS. The hour long session will give you the opportunity to put your careers questions to industry experts from the Tourism Council, who will be sharing their experience and offering advice to those looking for careers in the industry.
Chat schedule:
Take part in the hour chat using the #TourismChat hashtag.
Follow the conversation on Twitter throughout the week using the #TourismCareers hashtag.
If you work in the tourism industry, you can share your experiences and what you love about your career in a single image using the #MyTourismJob hashtag. See what others have already shared on our #MyTourismJob Pinterest board
Further information
Published 16 March 2015