Celebrating American Independence Day
The national flag of the United States of America is flying alongside the Union Flag at the offices of the Department for Communities and Local…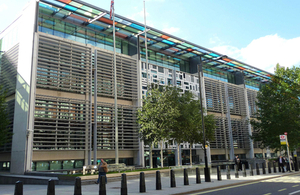 The national flag of the United States of America is flying alongside the Union Flag at the offices of the Department for Communities and Local Government today to coincide with US Independence Day.
Eric Pickles, Secretary of State for Communities and Local Government, said:
With over 120,000 American diaspora resident in Britain, the flying of Old Glory will honour the historic ties between the two nations as well as our ongoing friendship.
Secretary of State Eric Pickles is attending the unveiling of a statue of former US President Ronald Reagan at Grosvenor Square taking place today at the invitation of the US Ambassador Louis B Susman.
This is the latest in a series of flag raisings at Eland House, following the flags of historic English counties, the Armed Forces flag and the national flag of Sweden during a visit from their ministerial delegation. Further national flags may be raised throughout the year.
Images
Images are available from the DCLG Flickr channel (external link).
Twitter
Keep up to date with the Department by following us on Twitter (external link).
Media enquiries
Visit our newsroom contacts page for media enquiry contact details.
Published 4 July 2011