World news story
Celebrating 400 years of UK-Japan exchanges
A special lecture was given at the British Embassy Tokyo on 11 June - exactly 400 years to the day since the arrival of the very first British ship in Japan.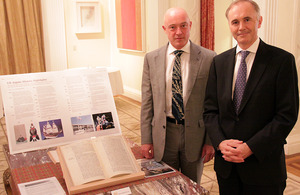 In the presence of Her Imperial Highness Princess Akiko of Mikasa, British Ambassador to Japan, Mr Tim Hitchens hosted a commemorative event at his Residence where Professor Timon Screech was invited to talk on the UK's unique historical relations with Japan, which this year celebrate the 400th anniversary since John Saris sailed his ship the Clove to Hirado Port in Kyushu. The East Indian Tea Company Ship was bearing official diplomatic letters by King James I and gifts including an amazing recent invention - a telescope. As Professor Screech's illustrated lecture revealed, the Dutch and Iberians were already in Japan but the English experience was markedly different.
A replica of John Saris' diary was also displayed at the event, thanks to Toyo Bunko (The Oriental Library) who will be displaying the diary and other artefacts at their 7 August - 26 December Tokyo exhibition "Marco Polo and the Silk Road World Heritage Sites: The Birth of Oriental Studies in the Occident."
Professor Screech is a specialist in the art and culture of early modern Japan and is currently undertaking a research project related to the early history of the English East India Company in Japan (1613-26).
The UK and Japan will continue to celebrate this 400th anniversary throughout 2013. More information is available in English and Japanese at the special commemorative website Japan400.com, launched earlier this year by leading British institutions and professionals including historians, journalists, representatives of cultural institutions and Japan enthusiasts.
Related link
UK-Japan relations celebrated with launch of Japan400 website
Published 13 June 2013