World news story
Celebrating 20 years of Chevening in Hong Kong
On 2 February, almost 70 Chevening alumni gathered at the Consul General's Residence to mark 20 years of the UK's prestigious Chevening scholarship in Hong Kong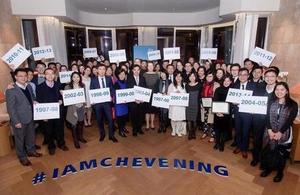 Chevening Scholarships are awarded to individuals with strong academic backgrounds who are also able to demonstrate leadership potential. The scholarship offers financial support to study for a Master's degree at any UK university and the opportunity to become part of an influential global network of over 44,000 alumni.
The 20th anniversary event was hosted by the British Consul General to Hong Kong and Macao, and attended by Hong Kong Chevening alumni and the programme's partner organisations – CK Hutchison Holdings Limited, HSBC and the Aberdeen University Hong Kong Association supported by Swire Educational Trust. The event drew attendance by alumni from each of the 20 years the Chevening programme has run in Hong Kong, from 1996 to the present day.
Caroline Wilson CMG, HM Consul General to Hong Kong and Macao said:
With the Chevening scholarships scheme now in its 20th year in Hong Kong, the UK continues to build mutually beneficial and long-lasting relationships with some of Hong Kong's brightest and best. This prestigious scheme offers a unique opportunity to Hong Kong and Macao's established and future leaders to become part of a truly global network and to establish lifelong links with the UK. I would encourage those who are aspiring leaders in Hong Kong to apply to the scheme when the next round of applications opens in August 2016.
And Kap Liu, President of the British Chevening Scholars Association said:
I'm always grateful and proud to be a Chevener. The scholarship not only provided opportunities for me to open up my world vision in my professional field but also allowed me to become part of the prestigious, powerful and reliable Chevening scholar alumni network. The British Chevening Scholars Association organise a wide range of events aimed at opening up greater collaborative opportunities among our 600 members in Hong Kong as well as the Chevening networks in China, Taiwan and Asia Pacific with the aim of building a stronger influence in society. The BCSA is very excited to welcome the new Chevening alumni to join us, expand and benefit from the network!
The event also welcomed back returning scholars from the past two years who are now part of the ever-growing global Chevening network.
About Chevening Scholarships
Chevening Scholarships are the UK Government's global scholarship programme, funded by the Foreign and Commonwealth Office (FCO) and partner organisations. The scholarships support study at UK universities – mostly one year Master's degrees – for individuals with demonstrable potential to become future leaders, decision-makers, and opinion formers.
Chevening began in 1983 and has developed into a prestigious international awards scheme. Chevening Scholars come from over 160 countries and territories worldwide (excluding the USA and the EU), and over 1,500 scholarships were awarded in 2015/2016. There are over 44,000 Chevening Alumni around the world who comprise an influential and highly regarded global network.
The name 'Chevening' comes from Chevening House in Sevenoaks, Kent – currently the joint official residence of the UK's Foreign Secretary.
More information is available at http://www.chevening.org .
Published 3 February 2016