CDS explains reasons for changes to Joint Strike Fighter capability
Military command is about taking difficult decisions in changing and challenging circumstances. Over the 40 years I have had the honour to serve…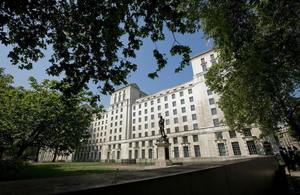 Military command is about taking difficult decisions in changing and challenging circumstances. Over the 40 years I have had the honour to serve in the Armed Forces, I have consistently found that such decisions demand both vision and courage. The change of course over our carrier programme announced this week certainly required both. It was not easy, but it is right.
It is worth explaining why I, and my fellow military chiefs, proposed this move. Carriers are expensive - there is no way around that. But they offer a capability that few can match: an independent, flexible, sovereign base, not tied to other countries' wishes, that can operate around the world.
By choosing the short take-off and vertical landing (STOVL) model of the Joint Strike Fighter over the Carrier Variant that we had previously ordered for our two new aircraft carriers, the UK is significantly shortening the time it will take to deploy our maritime air power.
For me, this is the key factor. We are getting an exceptional military tool that is capable of projecting power, deterring our enemies and supporting our friends. In an uncertain world, this is a capability that I know we all wish to have sooner rather than later.
It is worth understanding why this change is necessary. Two years ago, we looked at the facts we had, and made our decisions. They were right at the time, and based on the best information available. But since the Strategic Defence and Security Review (SDSR), some important things have changed.
The more cutting-edge aspects of the carrier jet programme proved very difficult to cost accurately. What we were told in 2010 has changed.
We had an opportunity to put this right, and it has been taken.
Contrary to the criticism levelled at the Ministry of Defence in the past, when the facts changed, our decisions did too.
The reasons why it was right to do this are clear. First, the improvements to the STOVL aircraft since the SDSR are impressive. Once a troubled project on probation, it has now demonstrated its capabilities, flying more than 900 hours. This reduces the danger of complications and cost increases that we feared in 2010.
Second, we could not operate the previous aircraft from a British carrier before 2023 at the earliest. By choosing STOVL aircraft, we have removed the risk of further delays, giving the UK a powerful carrier strike capability years earlier than would otherwise be possible.
Stretching the gap in carrier capability any further is neither desirable nor necessary.
Third, the costs of converting carriers to operate the Carrier Variant have increased by over £1bn, and may rise further. This raised the prospect of this vital capability being unaffordable - or of having to take money from other key programmes.
Whilst it is true that the Carrier Variant offered greater range, this is not a crucial advantage - given our major investment in air-to-air refuelling - when weighed against the greater time to bring it into service, and the increasing cost. The balance has tipped back in favour of STOVL, which has distinct advantages of its own, such as versatility and agility.
Switching to STOVL means we are getting an outstanding capability sooner, for less financial and technical risk. It also gives us the ability to operate two carriers if we choose, a decision that the next SDSR will review.
Managing the Carrier Strike programme is as complex and demanding as the maritime and air environments in which these ships operate. They are not just mobile flight decks, but among the most capable intelligence and targeting tools in the world.
Both the Carrier Variant and the STOVL aircraft represent a generational shift from the jets that we use today. Through their computer technology, stealth and communications they are more capable than their ship- or land-based predecessors. They are cutting-edge, multi-role platforms fit for the battlespace of the 21st century.
They can both carry the full range of weapons we intend to buy.
The bedrock of successful combat capabilities is Intelligence, Surveillance, Target Acquisition and Reconnaissance. This allows us to understand, track, strike and remain poised to react to the unexpected. It is this capability that ensured our success in Libya.
The Joint Strike Fighter increases it immeasurably.
This fifth-generation aircraft is a weapons system unmatched by our rivals, and will be an integral part of the package we offer our friends and allies - not least the French, with whom we have developed such a close relationship, and the Americans, who have been and will continue to be essential partners in developing our new capability.
Yesterday's decision guarantees that we will have a hard-hitting carrier capability up to five years sooner than looked likely. The advice of the Chiefs of Staff is clear: this is the right decision for the Armed Forces, and the right decision for Britain.
Published 11 May 2012