Press release
Cautions at lowest level for 30 years as sentences increase
Cautions are at their lowest level for 30 years and criminals are going to prison for longer than ever before, new Ministry of Justice figures have revealed today.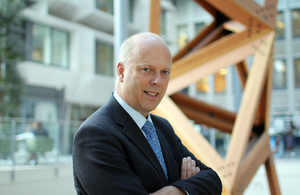 The use of cautions has dropped by more than a third from 260,513 in the 12 months to June 2010, to 169,094 in the 12 months to June 2014. This included a drop of 11% from year ending June 2013, when there were 190,051 issued.
At the same time, the average prison sentence handed down has increased to 15.6 months in the year to June 2014, up from 15 months in the previous year and from 13.8 months in year ending June 2010.
The government has taken major steps to toughen sentencing, including by introducing an Extended Determinate Sentence (EDS) and the 'two strikes' mandatory life sentence for committing a second serious violent or sexual offence. Further changes including ensuring those who are jailed will have to earn the right to be released from prison and making sure disqualified drivers who go back behind the wheel and kill or seriously injure someone will face long prison sentences of up to 10 years, are included in the Criminal Justice & Courts Bill, which is currently going through Parliament.
We are planning to scrap cautions and are piloting the effect of the proposed changes in three police force areas before deciding on whether to roll out the new system nationally.
Justice Secretary Chris Grayling said:
Criminals should never get away with little more than a slap on the wrist, no matter how minor their crime. Every crime should have a consequence and the public expect offenders to be punished accordingly, instead of walking away scot-free.

Under this Government, crime is falling and more people are going to prison for longer. Those who commit serious offences should be brought before the courts which is why we have banned the use of simple cautions for serious offences.

From my first day in this job I have been clear that people must have confidence in our justice system. We're on the side of people who work hard and want to get on, and that is why we are bringing in reforms that will see offenders face proper punishment for their crimes.
The figures show that all Out of Court Disposals – police sanctions used for dealing with lower-level crimes – have also plummeted by 40% since 2010. There were 301,839 given last year compared to 499,769 in 2010.
The figures follow proposed changes announced this month to the Out of Court Disposals framework, which will ensure that criminals face consequences for their offending. In November last year, guidance was issued to police forces to ban the use of simple cautions for serious offences.
Today's published statistics can be found on GOV.UK.
Published 20 November 2014