Press release
Caught – hook, line and sinker
Two anglers have been fined more than £400 after being found guilty of fishing illegally.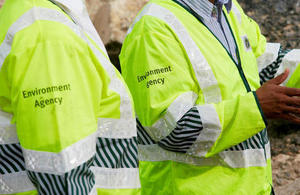 The men were caught without rod licences during Environment Agency fisheries enforcement patrols in Essex and Norfolk, and earlier this week, received fines at court.
Leszek Kocurek, 56, of McLeod Road, London, was found guilty of fishing without a rod licence on 19th October 2014 at Hanningfield Reservoir, Essex. Colchester Magistrates fined him £165, ordered him to pay £500 costs and £20 Victim Surcharge.
Paul Wake, 45, of Park Drive, Worlingham, Beccles, was found fishing with 3 rods and 1 rod licence on 3 March 2015 at Swanton Morley Fisheries, Norfolk. He was fined £250, ordered to pay £127.47 in costs and £20 Victim Surcharge, in his absence by King's Lynn Magistrates Court. He was also disqualified for 12 months from attaining/applying for a rod licence.
Both offences were in breach of Section 27(1)(A) the Salmon and Freshwater Fisheries Act 1975.
Lesley Robertson, Environment Agency's Enforcement Team Leader, said:
Our Fisheries Enforcement Officers patrol the watercourses all year round, including holidays and weekends.

Those who were breaking the rules were caught and now their cases have been brought in front of the court.

Those who avoid fishing legally with a rod licence will be caught. Anglers should ensure they are properly licensed before going out to enjoy this worthwhile hobby.
Nationally, last year (2014/2015), Environment Agency officers checked more than 70,000 licences and prosecuted more than 2,100 licence cheats. Between them, they were ordered to pay fines and costs in excess of £500,000. To help crack down on unlicensed fishing the Environment Agency urges anyone to report illegal activity by calling 0800 80 70 60.
Money raised from rod licence sales is invested in England's fisheries, including a wide range of projects to improve facilities for anglers, manage predation, protect stocks from illegal fishing, plus fish restocking, invasive species eradication, habitat improvements, and working with partners to encourage people to take-up fishing for the first time.
Annual rod licences for trout and coarse fishing remain at £5 for 12 to 16 year olds, £18 for senior and disabled concessions and £27 for non-concessions. Children under 12 can fish for free. Buying a licence online from the Post Office website saves time and administration costs, which means more of the income can be spent on improving fish stocks and fishing.
Published 26 June 2015