Castlemartin staff praised for helping rescue stranded sailors
Carl Bryant and Chris Fowler used their experience and radar facilities at the range to help the Maritime Rescue Coordination Centre locate …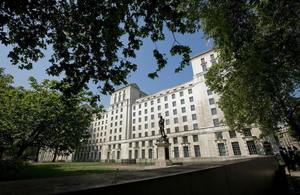 Carl Bryant and Chris Fowler used their experience and radar facilities at the range to help the Maritime Rescue Coordination Centre locate the vessel after it drifted some five miles from where its crew of two made their distress call.
Without steering, the yacht was in danger of being swept on to the rocks of Skokholm Island, just outside Milford Haven estuary, when it was located, thanks to the help of the two range staff.
Range Safety Officer, Warrant Officer Sean Meaker, said:
This episode illustrates the varied situations that can be encountered by Range staff in the course of a 'normal' day's work.

Mr Bryant, in particular, showed confidence and professionalism in his dealings with the emergency services, and both men should be congratulated for their diligent work in the best traditions of lending assistance to those in peril at sea.
Mr Bryant and Mr Fowler were working in the Range control tower on the night that the yacht's mayday distress call was made.
Communications established that the skipper was unsure of his position. A lifeboat was requested to launch just after 7pm, but nothing was located.
At this time Mr Bryant, LSS Duty Range Control Watch-Keeper, and Mr Fowler, Radar Operator, who had been monitoring the call, carried out a thorough examination of their tracked targets and history using their radar system.
Using his experience and a logical process of elimination, Mr Bryant established a firm contact that convinced him it was the vessel in difficulties. He then liaised directly with Milford Haven Coastguard, passing on all relevant information to the Lifeboat.
Working directly on the maritime radio to both the Coastguard and the Lifeboat, Mr Bryant was able to pass information to the Lifeboat enabling them to identify the yacht on their radar.
Carl Bryant said:
The team at Range Control are glad we can assist the Coastguard and Angle Lifeboat, ensuring the safety of vessels in and around Milford Haven waterway. Angle Lifeboat with a volunteer crew, along with Milford Haven Coastguard do such an outstanding job monitoring the local maritime area.
The Coastguard later rang the Range control tower to thank Castlemartin Range for its assistance with the incident.
Published 14 December 2011