Press release
Cash boost to revive seaside towns and communities
Coastal Communities are being offered a cash boost to help rejuvenate their areas.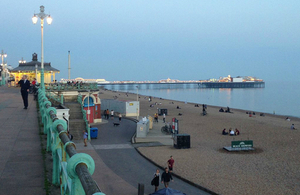 Coastal Communities are today (30 June 2016) being offered a cash boost and the chance to join a network of experts driving regeneration across the Great British Coast.
Speaking at the first-ever Great British Coastal Conference held today in Brighton, Communities Minister Mark Francois offered seaside areas the chance to bid for a share of £200,000 to help set up, as many as 20 new Coastal Communities Teams and get their ideas off the ground.
In the past year 118 towns, villages and cities along our coastline have already benefitted from keen locals joining forces with businesses and councils to help rejuvenate their areas. The wave of action they have created has helped the seaside regain its position as the most popular overnight holiday destination for Brits – a massive 13.7 million visits in 2015.
Now because of their resounding success, Mr Francois wants even more of our coastline to benefit.
Communities Minister Mark Francois said:
Across our Great British Coast tourism is taking off and investment is pouring in.

In just a year, 118 Coastal Communities Teams have made waves, positively shaping the economic development of their local areas. But we don't want anyone with good ideas to miss out, which is why we're giving another 20 areas the chance to benefit.

And with a further £90 million funding available over the next 4 years, there's plenty of cash available to help our coastline reach its potential.
A wave of enthusiasm from local people
Last year, 118 Coastal Community Teams were created, and given a share of £1.18 million to help drive forward coastal areas growth.
Now thanks to their success, the government is making an extra £200,000 available – enough for 20 more teams.
Bids can come from any seaside area which doesn't have an existing team and if picked, alongside the cash boost of £10,000 each, they'll be joining a network of experts who can share ideas about regenerating coastal areas.
In February, every Coastal Community Team unveiled radical economic plans covering areas like housing, business opportunities, jobs and skills, health and civic pride.
A range of exciting ideas were proposed including:
Plymouth – who will build a brand new history centre to mark the 400th anniversary of the Mayflower's voyage to America; they will also secure investment to kick start a number of projects, including new digital hot spots across the city, restructuring the waterfront and encouraging a cycling culture
Folkestone – who will enhance the living environment through public art and green space landscaping, and support start-ups through a new business hub
Scarborough – who will restructure their high street, redeveloping derelict floor space and bringing good-quality new homes into the city centre
This planning has meant the teams are attracting significant investment. Already they have secured £1.6 million through the Coastal Revival Fund – helping them restore 35 heritage sites – from lighthouses to lidos – back to their former glory.
Coastal Community Teams are also able to bid for a share of £90 million of government funding available UK-wide over the next 4 years.
This money is part of the latest round of the Coastal Communities Fund and is designed to help budding businesses and canny councils reel in jobs and revitalise our much-loved seaside areas.
Through this funding £120 million has been invested since 2012 in over 200 projects – an investment which is predicted to safeguard or create up to 18,000 jobs. Analysis has shown that for every £1 spent, local areas will see up to an £8 benefit.
Image licensed under Creative Commons by Wiki editor5807.
Office address and general enquiries
2 Marsham Street
London
SW1P 4DF
Contact form http://forms.communiti...
General enquiries: please use this number if you are a member of the public 030 3444 0000
Published 30 June 2016