News story
Case Study: Sqn Ldr Jason Neame
In 2015 Sqn Ldr Jason Neame deployed on the United Nations Mission in the Republic of South Sudan (UNMISS).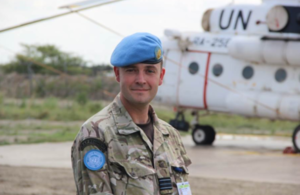 Squadron Leader Jason Neame was deployed to a United Nations operations base situated in the Upper Nile State as the Royal Air Force Plans and Operations officer.
The UK's contribution to peacekeeping in the region supports efforts by the United Nations and African Union to end some of the world's most destabilising conflicts that are prompting mass migration from South Sudan and facilitating the rise of terrorist groups in Somalia.
With a humanitarian crisis declared in South Sudan, over 2 million people have been displaced and over 4 million deemed severely food insecure.
When in country, Sqn Ldr Neame's specific role required him to oversee the force protection and logistics for all UN staff and non-government organisations located within the camp. His remit also stretched to approximately 60,000 displaced people in the adjacent 'Protection of Civilians' Camp.
The location of the base and the complexities of resupply given the distance from the capital, coupled with the conflicts around the area, made this a challenging and busy 6 months.
Talking about his time in South Sudan, Sqn Ldr Neame said:
The achievements within my tenure included the creation of a number of new facilities and accommodation units constructed for displaced personnel.

We were also able to deliver significant aid projects across the Upper Nile State into areas historically difficult to access.

Working as a UN Peacekeeper in a headquarters as part of a collective group of over 18 nationalities, as well as supporting and working alongside NGOs and military personnel, was a truly rewarding experience.
Published 7 September 2016