Carrier construction begins on the Mersey
The nationwide programme to build the Royal Navy's new Queen Elizabeth Class aircraft carriers passed another milestone when construction on the first ship, the Queen Elizabeth, began in Birkenhead yesterday, Monday 26 July 2010.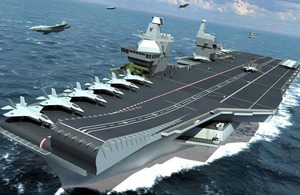 Birkenhead company Cammell Laird is the final shipyard in the programme to begin construction and will build two of the sections that will make up the ship's giant flight deck.
Construction began yesterday when Minister for International Security Strategy Gerald Howarth started the crane that laid the first of the steel plates for the flight deck.
Together the two sections will weigh in at 7,500 tonnes - more than a Royal Navy Type 45 destroyer.
The work is worth £44m to Cammell Laird and will provide a significant number of jobs in the area, boosting the local economy.
As he toured the yard, Mr Howarth met some of the 1,200-strong workforce involved in the project - including some of the 72 apprentices. He said:
Aircraft carriers represent a national asset for the UK. Power and versatility make them a formidable warfighting tool and able to fulfil a wide range of requirements in an increasingly diverse and changing global defence landscape.
The workers I have met here today are rightly proud to be a part of it and it's particularly exciting to see so many young apprentices learning their trade on such a prestigious project.
Six shipyards across the UK are involved in the massive construction project - Govan and Rosyth in Scotland, Portsmouth and Devonport in the south, and Newcastle and now Birkenhead in the north - providing around 10,000 jobs, with thousands more suppliers contributing with smaller contracts through the supply chain.
The Assistant Chief of the Naval Staff, Rear Admiral Philip Jones, said:
Carriers offer invaluable freedom of action with four acres [16,000 square metres] from which to project power anywhere in the world.

But they are much more than an air base capable of providing support to land operations and humanitarian assistance in disaster zones.

They also play an important role in conflict prevention; their scale, range and capability making them a powerful statement of intent.
Published 27 July 2010