News story
Carillion creates 5,000 new construction apprentices
Follows Autumn Statement announcement ending National Insurance contributions for apprentices under 25.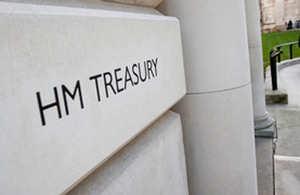 Chancellor of the Exchequer George Osborne today (11 December 2014) visited the Carillion Training Services Centre in Middlesbrough to mark the firm's plan to create 5,000 apprenticeships over the next 5 years across the country.
This follows the announcement in the Autumn Statement that the government is ending employer National Insurance contributions (NICs) for all apprentices under 25.
The tax change will save businesses over £1,000 a year when they employ an apprentice earning £16,000 and boost apprenticeship opportunities across all sectors in the UK.
In total, this will save British firms over £100 million a year.
Construction and support services specialist Carillion will create 5,000 apprenticeships over the coming 5 years, working in the construction, infrastructure and support services.
Chancellor of the Exchequer George Osborne said:
We are abolishing the jobs tax on young apprentices as part of our long term economic plan to help businesses.

Since 2010, 2 million people have taken up an apprenticeship and it is our plan to boost the number of apprentices still further.

When a business is giving a young person a chance in life, we are very clear that government must support them fully, not tax them.
Ray Wilson, Director and General Manager Carillion Training Services, said:
We are enormously proud of our track record in providing employment and training for young people and we have set ourselves a target of employing in excess of 5,000 new apprentices across our network of training centres.

We welcome the support for apprenticeships announced in the Autumn Statement which will help to give young people genuine life chances and enable them to realise their full potential.

Former Carillion apprentices are now helping to build Britain's future roads, rail and social infrastructure and supporting businesses across the globe. We are proud to be putting in place plans that will benefit the UK economy for decades to come and giving today's young people the opportunity of some exciting careers.
The Carillion apprentices will be based out of Carillion's network of training centres across the UK.
There are an estimated 500,000 apprentices under the age of 25 in the UK. In 2013/14, 58,520 people took part in an apprenticeship in the north-east.
Nationally, 28,640 have taken part in construction, planning and built environment apprenticeships and 141,940 in engineering and manufacturing apprenticeships.
Further support for employers includes the apprentice grant for employers, which provides up to £1,500 per apprentice for smaller businesses that have not employed an apprentice in the last year.
Published 11 December 2014