Care leavers and disadvantaged pupils to benefit from £126 million investment in new laptops and tablets
Care leavers, children with a social worker and children arriving from Afghanistan will receive devices to enable them to access education and support.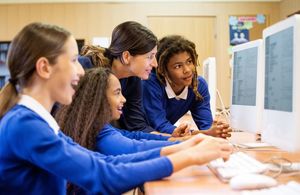 Up to half a million more disadvantaged children and young people in England will receive new devices to support their education and help keep them connected to peers and professionals, through a £126 million funding programme.
Ahead of Care Leavers Week (25-31 October), the government has today (Friday 22 October 2021) announced an expansion of the Get help with technology programme, with up to 10,000 devices for children with a social worker and those leaving care. Laptops and tablets will help these vulnerable young people stay in touch with their social workers, personal advisors and wider support networks, along with supporting their education or training.
Devices will also be allocated to children who have recently arrived from Afghanistan, to help them to adjust to life in England and support their education.
Additional devices will be provided to schools and colleges to help give children and young people who are not in school or college due to COVID-19 access to lessons, keeping them connected to their classmates and teachers.
Education Secretary Nadhim Zahawi said:
Our £126 million investment in laptops and tablets for those children who need them most will complement learning in school, and help drive our work to level up long term outcomes for those in care or leaving care.

This added investment builds on the 1.3 million laptops and tablets we have already provided during the pandemic, helping all children and young people, no matter their background, to access education and support for a better and brighter future.
The additional devices build on significant ongoing support for children in the social care system and young people leaving care, as part of the government's commitment to level up outcomes for all.
This includes the Care leaver ministerial board which is improving opportunities for care leavers as they proceed to independence and adulthood, and alongside the ongoing independent review of children's social care.
As part of the Get help with technology programme, the new investment will help support students with homework and out-of-school learning, alongside the government's £3 billion education recovery plans, which include an ambitious tutoring programme to help students catch up.
Schools, colleges and councils will be invited during November and December to order their allocation of devices, which will be determined by the proportion of pupils on free school meals and numbers of care leavers in each local authority.
The scheme builds on the successful delivery of laptops to support remote learning and access to essential social care services during the pandemic.
The department is also making £13 million available to schools and colleges that need to buy IT support to set up the devices. The funding also covers the costs of resetting and reconfiguring devices previously received via Get help with technology, which will allow schools to make full use of them in the long-term.
DfE media enquiries
Central newsdesk - for journalists 020 7783 8300
Published 22 October 2021