News story
Cardiff University presented with first Regius Professorship in Wales
School of Chemistry receives prestigious award with royal warrant by minister for the constitution.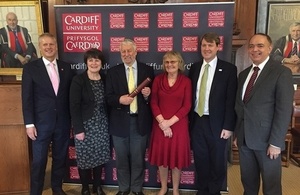 Today (9 December 2016) the Minister for the Constitution, Chris Skidmore together with UK Government Minister in Wales Lord Bourne, presented Cardiff University's School of Chemistry with a Royal Warrant signed by Her Majesty the Queen, officially conferring the title of Regius Professor of Chemistry, the first such award to be presented to a University in Wales.
The title of Regius Professorship is a rare and prestigious award given by Her Majesty the Queen to recognise exceptionally high quality research at an institution.
In June this year, Cardiff University was one of 12 universities honoured to mark Her Majesty's 90th Birthday. Previous to this, only 14 had been granted since the reign of Queen Victoria. It is believed that the first Regius Professorship was conferred to Aberdeen University in 1497 by King James IV.
The rare privilege was given to the School of Chemistry in recognition of its long track record of exceptionally high-quality research and teaching and its role in driving growth and improving productivity in the UK.
The school is a world-leader in translating fundamental chemical research into a broad range of applications with significant societal impact in a range of fields, from healthcare science to water purification, climate change and defence.
The title of Regius Professor has been given to Professor Graham Hutchings, the director of the Cardiff Catalysis Institute (CCI) and one of the world's pre-eminent authorities on catalysis – the process of making chemical reactions happen more quickly in order to make products cheaper, cleaner, safer and more sustainable.
After presenting the warrant, the Ministers were given a tour of the world-class facilities at the CCI and also met with Professor Hutchings to hear more about the School of Chemistry's research activities and education programmes. Recipients of new Regius Professorships have been selected by open competition, judged by an independent expert panel of business and academic experts. A Regius Professorship is a well-deserved reflection of the exceptionally high quality of teaching and research at an institution.
Chris Skidmore, Minister for Constitution, said:
The UK has some of the best universities in the world and I feel very privileged to be able to recognise them with such a prestigious award. The research at Cardiff University is an exemplar and means that our country can remain innovative and agile in the global market for generations to come.

The universities receiving a Regius Professorship can consider themselves truly deserving of this great honour, I am particularly delighted to see a Welsh University receive the award for the first time.
Lord Bourne, UK Government Minister in Wales, said:
As the UK Government Minister in Wales, it gives me immense pleasure to celebrate the first ever Regius Professorship in Wales - one of the highest, most-esteemed and rarest honours in the sphere of UK education. This award recognises not just high quality research but also the quality of teaching at Cardiff University.
Professor Graham Hutchings said:
I am extremely honoured to receive the title of Regius Professor today. The award is bestowed on the basis of academic excellence and impact, both of which we excel in at the Cardiff Catalysis Institute. Catalysis touches everything we do and provides solutions to pressing issues such as food provision, drug discovery, clean energy and global warming.

I'm sure this prestigious honour will draw even more attention to the ground-breaking work we are doing to meet these challenges.
In the past, Regius Professorships were created when a university chair was founded or endowed by a Royal patron. Previously, they were limited to a handful of the ancient universities of the United Kingdom and Ireland, namely Oxford, Cambridge, St Andrews, Glasgow, Aberdeen, Edinburgh and Trinity College, Dublin. Announced in the government's Productivity Plan in July, the new Regius Professorships celebrate the increasingly important role of academic research in driving growth and improving productivity over the past 90 years.
Published 9 December 2016