Captured Taliban motorbike features in Imperial War Museum exhibition
A newly acquired Honda motorbike, captured from Taliban insurgents by members of 1st Battalion The Rifles during their tour of Afghanistan last year, has gone on display at the Imperial War Museum in London.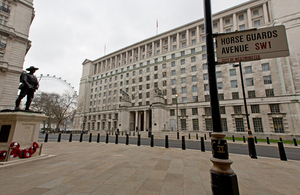 The motorbike forms part of the interactive display 'War Story: Serving in Afghanistan' (which will run up to 18 December 2012) where visitors can delve into the world of Armed Forces personnel serving on Operation HERRICK.
The exhibition includes troops' personal artefacts, videos and photographs which provide first-hand accounts of their everyday life on the ground and reflections on loss and coming home.
On 4 May 2011, members of C Company, 1st Battalion The Rifles (1 RIFLES), encountered two insurgents riding the motorbike on a track in Nahr-e Saraj (South). As the men tried to get away from the soldiers, they lost control of the bike, dropped it, and disappeared into the nearest village.
The motorbike was recovered by the soldiers and taken back to their base.
At the end of their tour of Afghanistan, the 1 RIFLES soldiers contacted the Imperial War Museum and offered to donate the motorbike to their exhibition.
And so, with the help of the Ministry of Defence, the bike was delivered to the 1 RIFLES base at Beachley Barracks near Chepstow in June 2012, having been routed around Pakistan. It is the largest item yet to be donated to the exhibition and is the only piece of 'enemy kit' acquired through the project so far.
With unprecedented access to Service personnel the Imperial War Museum's 'War Story', supported by Boeing Defence UK and launched in 2009 in co-operation with the Ministry of Defence, offers British Service personnel the opportunity to record their role in history by preserving their personal accounts of the current conflict in Afghanistan in the museum's unrivalled national collections.
Many contemporary items brought to the museum's collection through the War Story project feature in the major new 'Saving Lives: Frontline Medicine in a Century of Conflict' exhibition at the Imperial War Museum North in Manchester which examines all aspects of medical care on the front line, from the trenches of the First World War to present-day Afghanistan.
Published 12 November 2012