Canterbury celebrates soldiers' return from Afghanistan
The Argyll and Sutherland Highlanders, 5th Battalion The Royal Regiment of Scotland (5 SCOTS), received a jubilant reception as they marched through Canterbury last week, having recently returned from Afghanistan.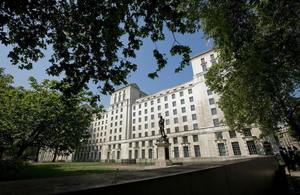 5 SCOTS, who returned from Afghanistan in April 2011, were the first troops to parade through Canterbury wearing kilts and with bayonets fixed since 1834, when their predecessors the 93rd Sutherland Highlanders received new colours from the Duke of Wellington.
The battalion, which is based at Howe Barracks in the Kent cathedral city, was deployed as part of 16 Air Assault Brigade to Afghanistan from September 2010 until April 2011. Elements of 5 SCOTS were spread across Helmand in a number of different roles.
Alpha, Bravo and Delta Companies, of 100 men each and the main fighting force of the battalion, were deployed in a 'ground-holding' role which saw them partnering the Afghan National Army and Police, providing security in local areas.
Daily patrols and larger, co-ordinated operations brought the companies into regular contact with Taliban insurgents.
Around 150 members of 5 SCOTS were deployed as part of the Police Development Advisory Training Team.
This saw them focusing on developing the capacity of the Afghan National Police, beginning with basic training at the Helmand Police Training Centre, and continuing with mentoring and partnering the police in their day-to-day security operations in the central Helmand districts of Nahr-e Saraj and Nad 'Ali, as well as in the provincial capital of Lashkar Gah.
5 SCOTS Commanding Officer, Lieutenant Colonel Adam Griffiths, said of last week's homecoming parade:
It has been a tremendous honour to march through Canterbury and a chance to say thank you to the people of Canterbury who have supported us so much over the last few months and indeed all the time we have been here.
The battalion had earlier received Afghanistan campaign medals at a ceremony at Howe Barracks watched by friends and family.
The parade was led by the battalion's Pipes and Drums and the regimental band and the regimental mascot, a black Shetland Pony named Cruachan III.
After the parade a service was held at Canterbury Cathedral which featured the Fijian male voice choir to which Private Joseva Vatubua, who was killed in action on New Year's Day, belonged.
Published 16 May 2011