Press release
Canoeists rescued after capsizing in Lough Neagh
Three canoeists rescued between Rams Island and Sandy Bay.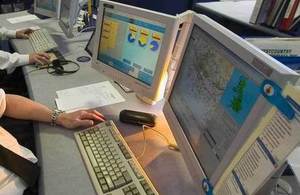 Three canoeists have been pulled from the water after getting into difficulty in Lough Neagh.
Belfast Coastguard received a call on VHF channel 16 just after 1pm this afternoon reporting that three canoeists had fallen into the water between Rams Island and Sandy Bay. Conditions on the water at the time were described as choppy, with a southerly wind of force 4 (13–17 miles per hour).
The Kinnegoe Coastguard Rescue Team along with the Kinnego and Ardboe Independent Rescue Boats were sent to the scene. The three, who were all wearing lifejackets, were rescued from the water by a sand barge that was close by at the time. They were then transferred to the Ardboe rescue boat, and taken ashore where they were met by Coastguard Rescue Officers and passed into the care of the Northern Ireland Ambulance Service.
Liam Colquhoun, Watch Manager at Belfast Coastguard, said:
These 3 canoeists all had lifejackets on, but unfortunately they weren't wearing wet suits or any type of gear that would help keep them warm. They were passed into the care of paramedics showing signs of hypothermia.

We always recommend that canoeists and kayakers are well prepared before setting out. Check weather and tides, wear a buoyancy aid, suitable clothing and carry a VHF marine band radio with you. Where there is good network coverage then it is worth carrying a mobile phone in a waterproof bag.

Call the coastguard if you get into difficulty, preferably via channel 16 on your radio or if not by calling 999 on your mobile and asking for the coastguard.
Maritime and Coastguard Agency press office
Press enquiries 020381 72222 (Monday to Friday, 9am-5pm)
Outside these hours, for emergency press enquiries only please dial the above number. You will hear a message giving an out of hours pager number.
Published 7 January 2014