News story
Candidates for new prisons and probation inspectors announced
Letter from the Justice Secretary to the Justice Select Committee to announce his candidates for the posts of HM Chief Inspector of Prisons and Probation and the Interim Chair of the Advisory Panel on Deaths in Custody.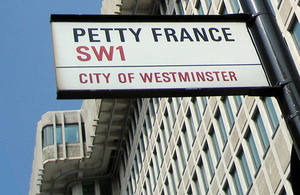 As you are aware, I am responsible for Her Majesty's Chief Inspector of Prisons and Her Majesty's Chief Inspector of Probation. Further to our correspondence before the recruitment process began, I am pleased to put forward my preferred candidates for the Committee's consideration: Peter Clarke for Her Majesty's Chief Inspector of Prisons and Glenys Stacey for Her Majesty's Chief Inspector of Probation.
Peter is a retired senior police officer, who served in the Metropolitan Police Service for more than 30 years. He rose to the rank of Assistant Commissioner and also served as Head of the Anti-Terrorist Branch and National Co-ordinator of Terrorist Investigations. In 2014 he was appointed Education Commissioner for Birmingham, with a remit to conduct an inquiry into the allegations concerning Birmingham schools arising from the 'Trojan Horse' letter. Peter is currently a member of the Board of the Charity Commission.
Glenys is currently the Chief Executive of Ofqual, the exams regulator in England. She is a solicitor by profession but also has 17 years' experience leading public sector organisations, having previously served as CEO of Standards for England, Animal Health, the Greater Manchester Magistrates' Courts Committee and the Criminal Cases Review Commission. In August this year, she announced her intention to leave Ofqual when her term comes to an end.
Candidates were informed prior to appointment that the positions were subject to scrutiny by the Justice Select Committee. As you are aware the hearing is non-binding but I shall consider the committee's conclusions before deciding whether to proceed with the appointment.
The recruitment campaign followed the process described in my earlier letter to you. The criteria for the competitions and the selection panel are set out in the attached annex.
Although not subject to pre-appointment scrutiny, I would also like to take this opportunity to draw to your attention to the appointment of Kate Lampard, CBE, as the Interim Chair of the Advisory Panel on Deaths in Custody.
Kate is a former barrister and former deputy chair of the Financial Ombudsman Service. She was previously appointed by the Secretary of State for Health to provide independent oversight of the NHS's investigations into Jimmy Savile's activities, and to produce a 'lessons learned' report. She was also commissioned by Serco to lead an independent review into the culture of Yarl's Wood Immigration Removal Centre. She currently serves as a senior non-executive director in the National Health Service. She will serve for a period of 6 months from 16 November 2015, during which time a public appointment exercise will identify a permanent Chair.
Published 20 November 2015