Cancun climate negotiations - Day 10
Climate Secretary, Chris Huhne, said "we're reaching a crunch point" as high level negotiations get into full swing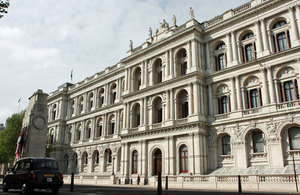 Day 10 saw the high level section of the negotiations get into full swing. Secretary of State Chris Huhne addressed the conference for the first time. He said that while "there is a willingness to make progress, with just two days to go, we're reaching a crunch point. Let me be clear: a car crash of a summit is in no one's interest. The answer has to be compromise."
COP President Minister Espinosa set out in a statement her intention to intensify the process of transparent and inclusive consultation in which Chris Huhne was a key player earlier in the week. She emphasized that these efforts were in support of formal negotiations, and not a parallel or overlapping discussion. She also made clear that in addition to the Presidency being accessible to all parties, the onus is on all involved to engage each other in building the necessary compromises in the final stretch of negotiations.
Both Chris Huhne and Greg Barker had various meetings with other Ministers both bilaterally and in groups. EU Ministers met to coordinate in the middle of the day, with Chris Huhne, and other EU Ministers, and Climate Commissioner Hedegaard, updating each other on the progress being made in the range of meetings that they have been attending.
Ministers from countries involved in the Cartagena Dialogue also met to discuss where the best opportunities to reach compromise might be found.
Published 9 December 2010