World news story
Canadians invited to discover Earnscliffe
Large crowds are expected to once again experience the history of the High Commissioner's residence during Doors Open Ottawa.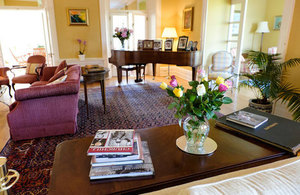 For the third year in a row, British High Commissioner Howard Drake and his wife Gill Drake will open the doors of their residence, Earnscliffe, during Doors Open Ottawa. The historic property will be open from 10am to 4pm on Saturday 4 June.
Well known as the personal Ottawa home of Canada's first prime minister Sir John A Macdonald, the Victorian house has been home to British High Commissioners to Canada since 1930.
"Doors Open Ottawa has become a yearly highlight for Gill and me," said High Commissioner Howard Drake. "Last year we welcomed nearly 2,000 guests to Earnscliffe during this event, which speaks to the level of interest Canadians have in learning about its history. We look forward to welcoming even more this year."
Snuggled along the Ottawa River between Sussex Drive and the Macdonald-Cartier Bridge, the home's history dates back to 1855 when it was built for local businessman John MacKinnon. After renting it briefly Sir John A Macdonald would move into the home in 1883. He lived there until his death in 1891.
Since then the home has seen many upgrades, including a major restoration of the property by the UK government in 2013.
This year's tour will take guests through the home's main floor with stops in the Dining Room, Drawing Room, Study and Conservatory. Guests will then take the main staircase to the second floor to visit The Sir John A Macdonald suite, where the former prime minister passed away.
Those planning a visit should be aware enhanced security measures will be in place during Doors Open Ottawa. They include:
the screening of all guests prior to entry
the use of a hand-held metal detector for secondary inspection
the full visual inspection of carried personal items
In order to keep wait times at security to a minimum we strongly recommend that you leave any unnecessary personal items in your vehicle or at home. Backpacks, large bags, and items such as pocket knives will not be allowed and we are not responsible for any items left outside the gate.
The house is also unable to accommodate large strollers and photography is permitted on the exterior grounds only. Smoking is not allowed on the property.
Further information
Follow the British High Commission on Twitter @UKinCanada
Follow the British High Commission on Instragram @UKinCanada
Follow the British High Commission on Facebook
Media enquiries
Trevor Kerr
80 Elgin Street
Ottawa Ontario K1P 5K7
Canada
Published 16 May 2016