Press release
Canadian canoes swamped by waves on their way to Salt Island
Five Canadian canoes have been swamped by waves whilst crossing Stangford Lough.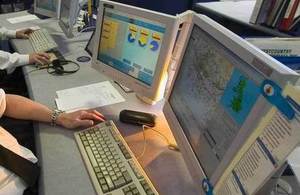 An overnight trip to Salt Island ended prematurely when 5 Canadian canoes were swamped by waves as they crossed Stangford Lough.
At just after 12 noon a member of the public called 999 to report that 2 kayaks were in difficulty north of Green Island and there were people in the water. Belfast Maritime Rescue Coordination Centre sent the Coastguard Rescue Teams based in Portaferry and Bangor to the Lough with the RNLI Lifeboat based in Portaferry. Dive Rhib Nemo also joined the rescue.
Seven canoeists from a party of 14 were pulled from the water. All 4 adults and 10 teenagers were taken to the shore by the 2 boats where they received medical attention.
Jude McNeice Belfast MRCC Watch Manager said:
The group were equipped with lifejackets and safety helmets but obviously weren't expecting to spend time in the cold water.

Although the sun is shining the wind is blowing and so conditions on the Lough are quote rough. I'd just like to take this opportunity to remind anyone planning to enjoy the spring weather to check weather forecasts and tidal conditions before you set out.
Follow us on Twitter. Find us @MCA_media
Maritime and Coastguard Agency press office
Press enquiries 020381 72222 (Monday to Friday, 9am-5pm)
Outside these hours, for emergency press enquiries only please dial the above number. You will hear a message giving an out of hours pager number.
Published 15 March 2014