World news story
Canada Celebrates the Commonwealth Summit
From coast to coast, Canadians come together for Commonwealth Big Lunches.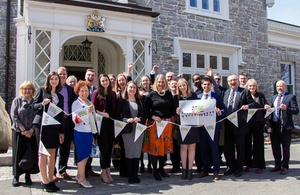 In the lead-up to the Commonwealth Heads of Government Meeting in London from 16-20 April, staff from the British High Commission and Consulates-General joined community groups across Canada in celebrating the Commonwealth, including by taking part in Commonwealth Big Lunches.
Commonwealth Big Lunches, created by educational charity the Eden Project in partnership with the UK Government, encourages people to get together to celebrate their Commonwealth connections through food. Millions of people across the Commonwealth are set to come together as part of an international initiative launched by the UK Prime Minister Theresa May.
Peter Stewart MVO, Executive Director of the Eden Project said:
Commonwealth Big Lunches bring people together, show the diversity we all have and importantly celebrate the commonality we all share which showcases the true spirit of the Commonwealth.
From Vancouver, British Columbia to St. John's, Newfoundland and Labrador, lunches took place in six Canadian cities. These informal lunches brought together dozens of people to share a meal while discovering and celebrating their Commonwealth connections, experiences and stories.
In Nova Scotia a special Commonwealth event was held on 3 April as Her Majesty Queen Elizabeth II, as Head of the Commonwealth, recognised Jane Roy of Halifax, Nova Scotia as the 46th Commonwealth Point of Light in honour of her exceptional voluntary work establishing the Catapult Leadership Society.
Jane is the founder of Catapult Leadership Society which runs 'Catapult', a free leadership camp for Nova Scotian youth who have natural leadership qualities but limited opportunities. The camp began in 2009 and has hosted 50 teenagers each summer who are nominated by their school.
So far more than 450 young people have gone through the programme. Under the guidance of trained instructors, participants learn how to become more self-confident, develop teamwork skills and improve their ability to communicate and solve problems.
This year, Jane Roy was the Canadian recipient of the award where she was presented with a personalised certificate signed by Her Majesty The Queen. The certificate was presented by Nova Scotia Lieutenant-Governor The Honourable Arthur J. LeBlanc and British High Commissioner to Canada Susan le Jeune d'Allegeershecque.
Susan le Jeune d'Allegeershecque CMG, High Commissioner to Canada said:
It is a great honour to present this award to Jane in recognition of her extraordinary work with youth across Nova Scotia. Camp Catapult has clearly touched the lives of many young people by providing them with the opportunities and encouragement they need to become future leaders in their communities. It is an example I hope will inspire others here in Canada, across the Commonwealth, and around the world.
Jane Roy said:
I am deeply honoured to receive this award. Catapult has been an incredibly rewarding experience - I've met so many inspiring people, grown as a person, and have had a ton of fun. Most of all, I feel privileged to have worked with some of Nova Scotia's most promising youth.
Published 18 April 2018