Press release
Campaign to reward designated drivers launched by Coca-Cola Great Britain and THINK!
Buy one get one free deal on Coca-Cola, Diet Coke and Coca-Cola Zero this Christmas for designated drivers.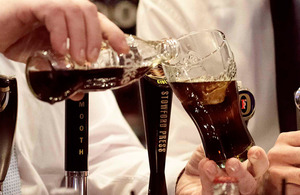 Designated drivers will be rewarded with a 'buy one get one free' deal on Coca-Cola, Diet Coke and Coca-Cola Zero, this Christmas.
Over the winter period designated drivers across the UK will give lifts to friends and family as they enjoy a festive night out at pubs and bars.
Coca-Cola Great Britain and the Road Safety Minister, Stephen Hammond MP, will today (6 December 2012) celebrate and pledge to reward responsible drivers, at the launch of this year's designated driver campaign at the Mason Arms pub in Central London.
Now in its 5th year the nationwide designated driver campaign will reward drivers who choose not to drink alcohol with a 'buy one, get one free' offer on Coca-Cola, Diet Coke and CokeZero.
The scheme will run for 3 weeks from 6 to 31 December and is part of an ongoing partnership with the THINK! driver friendly campaign.
A dedicated website has also been set up to encourage consumers to take advantage of the offer. From the 6 December designated drivers and their friends can visit the Coca-Cola website to find a participating pub in their area.
Stephen Hammond, Road Safety Minister, said:
Our THINK! campaign makes it clear that drink drivers risk losing their licence as well as facing a fine and even a prison sentence.

I am pleased that THINK! will be teaming up with Coca-Cola and pub chains across the country to reward designated drivers as well as reminding people of the consequences of getting a drink drive conviction. No one wants to spend their Christmas in a police cell. My message is clear: don't drink and drive.
Jon Woods, General Manager, Coca-Cola Great Britain and Ireland said:
Designated drivers provide an amazing service to friends and family. They allow people to have a good night and also help keep roads safe, so everyone can enjoy the Christmas period. By rewarding drivers who choose not to drink with a free Coke, Diet Coke or Coke Zero, we hope even more people will be encouraged to do the right thing and become responsible drivers.
Kieron Murphy, Licensee, Masons Arms:
We see a lot of people come in over the Christmas period who are responsible for driving their friends and family home at the end of the night. That's why we are delighted to be participating in Coca-Cola's designated driver campaign this year. It will reward our regulars and make sure they still have a good night out.
Notes to editors
For further information, images or interview requests please contact Tim Smith.
Telephone: +44 (0)20 7822 01734
Email: tim.smith@portland-communications.com
The launch event will take place on 6 December (7.30-9am) at the Mason Arms, Maddox Street, London. The designated driver campaign forms part of Coca-Cola Great Britain's pledge to promote the positive role in which soft drinks can play as credible alternatives to alcohol. The designated driver campaign is a key feature of Coca-Cola Great Britain's overall commitment to responsible marketing.
About the research
Research was conducted by Populus for Coca-Cola in November 2011 with 2000 adults. Key findings include:
79% of women have used a designated driver at the end of a night out
men are more likely to abstain from alcohol with 63% having given it up to drive friends/family home before
62% of adults plan to go to a pub or bar over the Christmas and New Year period
two thirds of those aged 65+ have been a designated driver compared to just over half of 18 to 24 year olds
however 18 to 24 year olds will give the most lifts over the Christmas and New Year period, on average taking 5 people
the majority of those polled never drive home after drinking more than one alcoholic drink on a night out (83%)
nearly half of respondents thought that the best thing about designated drivers is that they stop people drink driving, while 3 in 4 believe it is because they ensure people can get home safely at the end of a night out
About Coca-Cola Great Britain
Coca-Cola Great Britain is responsible for marketing 21 brands and over 100 products to consumers across Great Britain, focusing upon developing new brands, extending existing brands and protecting trademarks including Coca-Cola (recognised as the world's most valuable brand). Other Coca-Cola Great Britain brands include Diet Coke, Coke Zero, Fanta, Sprite, Dr Pepper, Oasis, Glaceauvitaminwater, Schweppes, 5 Alive, Lilt, Kia Ora, Relentless Energy Drink and Powerade.
The Coca-Cola Great Britain portfolio is worth £1,998 million with value sales growth of 8.4% year on year. Within this the My Coke trilogy (Coca-Cola, Diet Coke and Coke Zero) is worth £1,150 million, growing at 6.4% in value year on year (Neilsen, w/c 11/02/12).
Coca-Cola Great Britain is committed to developing innovative, responsible and sustainable initiatives that help protect the environment. Recently the company launched its PlantBottle™ plastic made from up to 22.5% plant-based materials and up to 25% recycled plastic as the latest step on its journey towards petroleum-free plastic.
The company is also dedicated to recycling, with 97% of site waste recycled or recovered. For more information about Coca-Cola in Great Britain, please visit the Coca-Cola website
About the THINK! drink drive campaign and driver friendly initiative
The number of people killed in drink drive accidents has been reduced by over three-quarters since 1979 thanks to more than 30 years of government education campaigns and measures to improve enforcement. However, drink driving is still a problem and provisional statistics show that 280 people lost their lives in drink drive accidents on Britain's road in 2011.
The THINK! campaign has had a long-standing and well supported partnership with the on-trade and soft drinks industry. In December 2009, this was developed into the 'driver friendly' campaign which aims to support the designated driver through the provision of promotional offers and 'rewards', linked to the purchase of soft drinks, on their night out. Coca-Cola GB is leading the way for Christmas 2012, and their designated driver promotion.
Roads media enquiries
Media enquiries 020 7944 3021
Out of hours media enquiries 020 7944 4292
Switchboard 0300 330 3000
Published 6 December 2012