News story
Campaign launched to warn of risks of 'legal' highs
Radio, digital and mobile phone adverts are aimed at people aged 15 to 21 and warn them about the risks of taking the drugs.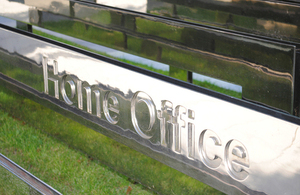 A national campaign to raise awareness of the dangers of new psychoactive substances (NPS) – so-called 'legal' highs – among teenagers and young adults has been launched by the Home Office.
The radio, digital and mobile phone adverts are aimed at people aged 15 to 21 and warn them about the risks of taking the drugs.
Risks and harms
The campaign focuses on the risks and harms associated with a range of legal highs including nitrous oxide, which is commonly known as "laughing gas". In 2013/14, nitrous oxide was the second most popular drug among young adults, more widely used than powder cocaine, ecstasy and amphetamines.
The campaign directs young people to the FRANK website for help, information or advice about drugs.
A second phase of the campaign later this year will target youth and social workers and others to challenge drug taking behaviour among young people.
Crime Prevention Minister Norman Baker said:
All too often young people take their lives into their own hands by dabbling with so-called 'legal' highs when they don't even know if they are safe, let alone legal.

Some of these substances are proven to be more dangerous than illegal drugs and it is vital that young people are informed about the risks associated with their use.

This summer's Home Office campaign is part of a wide range of action taken by the government to clamp down on so-called 'legal' highs, including banning more than 350 substances.

We will shortly be announcing the outcome of a review of the UK's approach to new psychoactive substances.
V Festival
Scientists from the Home Office's Centre for Applied Science and Technology are at V Festival in Chelmsford, Essex, this weekend (16-17 August) to analyse samples of NPS taken from festival goers.
The results will be used to inform law enforcement agencies and the government about the emergence of new psychoactive substances.
Chief Inspector Jonathan Hayter, of Essex Police, who is in charge of policing V Festival in Chelmsford, said:
The festival has always been a fantastic occasion for both the police and the public, but we want to remind festival-goers that psychoactive substances will not be tolerated and if anyone is found to be in possession of them they could be prosecuted and removed from the festival.

There's lots of advice on our website so please take a few minutes to read it and keep an eye out for the tips and updates we'll be pushing out via social media over the course of the weekend.
Simon Forshaw, V Festival Event Organiser, said:
V Festival wholly supports the launch of this campaign and the measures being taken by the police and the Home Office. We have worked closely with police and licensing authorities for many years on this very subject.

V Festival and all our highly experienced staff and security are pleased to see a campaign being put in place to create awareness of the dangers of these substances. Looking forward, our prime objective is to maintain a safe and enjoyable environment for the thousands of people who attend the V Festival every year.
Earlier this year, the Crime Prevention Minister wrote to festival organisers asking them to adopt a "no legal high" policy towards new psychoactive substances as a condition of entry.
At V Festival, a ban on 'legal' highs has been in place for seven years at its two sites in Hylands Park in Chelmsford and Weston Park in Staffordshire.
Organisers this year have stepped up their work on 'legal' highs, in particular nitrous oxide.
The Home Office funded Forensic Early Warning System (FEWS) was set up in January 2011 in response to the emergence of new psychoactive substances.
The main aim of FEWS is to forensically identify NPS quicker and more effectively, to inform the Advisory Council on the Misuse of Drugs and the government's wider response.
This year's FEWS annual report is published today.
Centre for Applied Science and Technology on testing 'legal' highs
Published 16 August 2014