Campaign launched to fill global shortage of midwives
Nearly 48 million women give birth every year without a midwife or birth attendant according a Save the Children report titled Missing Midwives.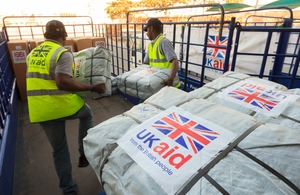 Almost 48 million women - one in three - give birth around the world every year without expert help, and of them two million deliver their babies completely alone - often with devastating consequences, according to Save the Children's new research published to coincide with Mother's Day on April 3.
The Missing Midwives report reveals that pregnant women frequently give birth at home without a midwife with only a dirty blade to cut the umbilical cord and herbs from a traditional healer to try and combat infection.
In some countries, cultural reasons mean that husbands sometimes deter their wives from seeking any help at all, leaving them to face the riskiest moment of their lives alone. As a result, 1,000 women and 2,000 babies die every day from birth complications which could be easily prevented, the agency said.  
Save the Children, which is launching a celebrity-backed campaign for more midwives, estimates that if the global shortage of 350,000 midwives was met, not only would many mums be saved, but more than a million more newborn babies would survive every year instead of dying from easily preventable problems.
Marking the occasion held at the Royal College of Obstetrics and Gynaecologists, Steven O'Brien, Parliamentary Under Secretary of State for International Development said:
"It is nothing short of a disgrace that, in the 21st century, one of the most dangerous things a woman in the developing world will do is get pregnant.
"The UK is committed to ensuring that more women in developing countries are able to give birth safely attended by trained staff, particularly midwives and others with midwifery skills. By 2015 we will support at least two million safe deliveries in the world's poorest countries and we are working hard to improve access to quality maternity services for all women in the developing world.
"Women and girls are at the top of the UK's aid agenda and the work of organisations such as Save the Children is vital in helping us to achieve the best results for them."
UK aid is supporting the Royal College of Obstetrics and Gynaecology to provide emergency obstetric care training to midwives and doctors in five target countries. By the end of 2010, 2000 healthcare providers had been trained.
The UK's Framework for Results for improving reproductive, maternal and newborn health, which was published at the end of last year, clearly demonstrates the Coalition Government's commitment and international leadership on these issues. 
UK aid will save the lives of at least 50,000 women in pregnancy and childbirth and 250,000 newborns by 2015 and work to ensure pregnancy and childbirth are safe for mothers and babies by supporting at least two million safe deliveries ensuring long lasting improvements in quality maternity services, particularly for the poorest 40%.
Published 1 April 2011