News story
Campaign calls on young people to kick-start career with an apprenticeship
New GetInGoFar campaign shows young people how an apprenticeship can give them the skills and experience they need to land their dream job.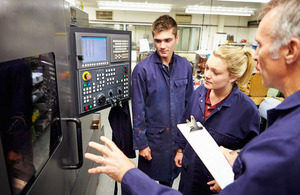 From hundreds of talented apprentices across England, 13 have been selected to be the stars of the campaign, and tells them what they need need to land their dream job.
Telling their stories, the apprentices, from top firms including IBM, JCB and Sellafield, will feature on billboards and television screens across England.
To celebrate the campaign, apprentices everywhere are being encouraged to share selfies and video clips of themselves at work on social media using the hashtag #GetInGoFar.
You can also learn more on youtube.
Campaign Star, Xavier Williams, of Lloyds Banking Group, said:
It's never too late to get an apprenticeship. If you are considering how to better your future then an apprenticeship would be a no-brainer. All it takes is self-confidence. I can't recommend this route into employment highly enough.
The campaign will direct young people online to www.getingofar.gov.uk where they'll be able to find out more about the benefits and opportunities of apprenticeships. The website will also direct people to other options such work experience or a traineeship, if they're not quite ready for an apprenticeship.
New research figures also released today show that:
around 90% of employers and apprentices are satisfied with their programme
around 75% of employers find that apprentices improve productivity or the quality of their products and services
outcomes for apprentices remain strong with 92% of apprentices employed around 6 months after completion
the vast majority of apprentice employers are committed to providing apprenticeships in the future
For more information – please read the full press release.
Interested in an apprenticeship, traineeship or work experience - visit www.getingofar.go.uk.
Published 16 May 2016