World news story
Cambodia: Call for Project Proposals
The British Embassy Phnom Penh is pleased to announce a Call for Project Proposals for the fiscal year 2016-17 under our Bilateral Programme Fund.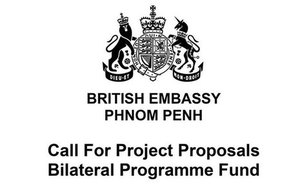 The purpose of this fund is to support British embassy areas of interest and activity. Our mission in Cambodia is to support democratic and sustainable development, improve the business environment and build support and capacity for future generations of Cambodia's political and business leaders.
Specific areas of focus include advancing STEM (Science, Technology, Engineering and Maths) Education in Cambodia and supporting outreach, education and legacy aspects of the ECCC.
We are looking for creative and original project ideas which could help us achieve any of the above goals. Successful bids will be for innovative activities that will have the greatest impact and deliver real change.
We are less interested in proposals which focus purely on seminars, workshops or the production of research reports as ends in themselves. Instead, proposals should include action-oriented ideas which will bring about concrete outcomes.
Budget
Project budgets should be for a single year for activities undertaken over the period April 2016 to March 2017, the cost of project between £5,000 and £25,000. We are unable to fund multiple-year projects.
Projects not eligible for funding
Projects focussed on service delivery or projects that support military, religious affairs, construction activities, capital costs, or mainly staff salaries are ineligible.
How to apply
Interested implementers are invited to submit their Bidding form (MS Word Document, 26.8KB) and ABB Template (MS Excel Spreadsheet, 48.5KB) to the embassy by on or before 5:00pm on 8 March 2016.
Deadline for submission of the the Bidding Form and ABB template
For further information:
Please write to:
British Embassy
No. 27-29, Street 75
Sangkat Sras Chork,
Phnom Penh, Cambodia
Tel: 023 427 124
Email: project.phnompenh@fco.gov.uk

Published 25 February 2016