Call me Padre' - meet the Army's head chaplain
Chaplain-General the Reverend Jonathan Woodhouse talks to Lorraine McBride about issues of faith and his role as head of the British Army Chaplaincy.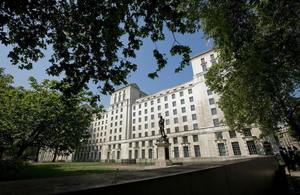 LM: What inspired you to become a military chaplain?
JW: Two people had a very formative influence on me; an Army chaplain visited our college to give a talk on chaplaincy and after I went up and said 'that's what I should be doing'. But he said 'not yet! You've got to get experience in the church first'. Then my brother-in-law, who was a serving staff sergeant, told me 'from my experience of the Army, you should be a chaplain'. In some ways, he had more resonance. I'm not from a military family, whereas he was a career soldier and not even a churchgoer, yet he strongly encouraged me and I sensed God's call to me for this ministry.
LM: Are chaplains soldiers first or men of religion?
JW: No, we would be useless soldiers! We go on operations but we never carry arms; it's British policy that we don't and that's very important to us. It makes some people feel vulnerable but it's a key statement of what we're about because we're men and women of peace in situations of great pressure and sometimes danger but we don't carry arms.
LM: How challenging is your work?
JW: It's hugely stimulating and fast-moving. Our two biggest issues are firstly, spiritual support and pastoral care, and the way which we deliver that across all three Services. Secondly, we have chaplains from all three Services going on operations. Alongside this is our relationship with our sending churches, because they're our authority for serving in the military. Without their say-so, whether you're Anglican, Catholic, Baptist or Church of Scotland, if they took our licenses away, we couldn't operate.
LM: In 2012, fewer people are going to church. Is religion becoming increasingly irrelevant?
JW: Because of the issues that we deal with, especially on operations - mortality, relationships, pastoral support, purpose and forgiveness, there's a great call for chaplaincy that isn't necessarily there in the civilian world. We are called on time and time again. We live, breathe, socialise and go on exercise and operations together. We're part of this Army, and because we deal with powerful issues, the call to us is strong. I don't know of a comparable relationship that a priest or minister might enjoy in their parish that's as close as we enjoy in the military.
LM: How are chaplains treated by troops?
JW: We like to be addressed as 'Padre' and if anyone calls us 'Sir' we get upset. We have a great advantage in that we can have a different relationship with any soldier or officer. A padre is probably the only person who doesn't want the CO's [Commanding Officer's] job, but he can bring both to the CO and the private a listening ear, guidance, and an honest appraisal untainted by any ulterior motive, and that's very powerful. We listen to people's innermost thoughts that they won't reveal much elsewhere, if at all.
LM: What are your biggest issues in Army chaplaincy?
JW: There is Army 2020 and being in a position where we can deliver our mission to bring spiritual support, pastoral care and moral guidance to soldiers and their families. How many chaplains do we need under Army 2020? How will they be deployed? What numbers of full-time and reserves are we going to require, recruit, train and manage. These are my main issues.
LM: So military job cuts will affect Forces Chaplains?
JW: We currently don't have enough chaplains to fill the slots, so trying to gauge the exact laydown of the future Army isn't easy, but we will be cut by around 10 per cent over the next few years. How will we cope? Because the Army is being cut by around 20 per cent, we think that we'll be able to meet the plans that the Army has for its future size and structure.
LM: The church is seeing more and more women vicars. Is that trend mirrored in the Armed Forces?
JW: We've got five full-time women chaplains and one reserve Army chaplain. One of our women has just been awarded the Joint Commander's commendation for her work with the Counter-IED Force in Afghanistan and we're all delighted. We need far more women Army chaplains. We've tried quite hard and I honestly don't know whether there's a perception that it's not for them. We recently placed our first female chaplain with an infantry regiment and she was outstanding. Women have particular pastoral gifts. There are more in the Church of England being ordained so we'd like more female chaplains in the Army, thank you.
LM: Is it possible that you could have a female Chaplain-General in the next 20 years?
JW: If the chaplain has the particular skill set, there is no reason why not. It's a post that's open to any denomination regardless of gender or denomination.
LM: In war films, chaplains traditionally reassure soldiers that God is on their side, but logically he can't be on everyone's side? What's your take?
JW: I don't think that God is on anyone's side. It's up to us to be on God's side and seek out the way he wants us to live. In certain circumstances soldiers are allowed to use lethal force as a last resort but there are very clear rules of engagement. We minister to people who may be called on to use lethal force and that brings a creative tension. War is always the last resort.
LM: How can chaplains reconcile their faith with the use of lethal force?
JW: There is a long tradition going back to Augustine that, in certain circumstances, a nation state is allowed to take life within constraints, but it's very clear that war is a last resort. In the 14th century, when soldiers came back from war, there would often be a confession with the chaplain to recognise the enormity of what they'd done. Chaplains deal with forgiveness and mortality because we're all human and some soldiers will need to deal with them. We're there to do that.
LM: When troops lose a comrade or a woman loses her husband, is it more likely to reinforce or rock faith?
JW: It varies hugely as the grief process differs between individuals and from family to family. Therefore a chaplain has to be very aware that this is a long-term process. A lot continues to happen with bereavement or serious injury long after funerals and anniversaries. There can be delayed grief for those seriously injured or touched by traumas. Chaplains have a hugely significant role in ministering to folk in this situation.
LM: Are you involved with discussing faith with religious leaders in Afghanistan?
JW: We engage with their religious community at a pretty low level in terms of friendship and support. Our main role is ministering to British troops.
LM: What are the high points of being a chaplain?
JW: There is an enormous sense of adventure and a fantastic opportunity to work with people from all walks of life. It's rare in a parish to find the mix of people that we get in the Army, from people with difficult backgrounds to those of huge privilege; to be able to minister to people from all backgrounds is a huge blessing.
This interview by Lorraine McBride appears in the November 2012 issue of Defence Focus magazine - For everyone in Defence.
Published 15 November 2012