Call for Proposals: Good Governance Fund – Strategic Support Fund
British Embassy Chisinau announces the call for Proposals: Good Governance Fund – Strategic Support Fund - Moldova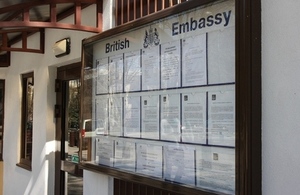 The UK Government's Good Governance Fund (GGF) was launched by Prime Minister David Cameron earlier this year to support economic reform and good governance in Georgia, the Republic of Moldova, Ukraine, Serbia, and Bosnia & Herzegovina.
The GGF will support work in the following areas: anti-corruption measures, improving the business environment, judicial reform, key sector reforms (e.g. banking and energy), strengthening the rule of law and supporting an independent media. These interventions will support States to become more resilient to external and internal political and economic shocks.
This call for proposals specifically seeks applications for projects relating to the Republic of Moldova. Successful applications will be supported through the GGF's Strategic Support Fund (SSF) which is a highly flexible funding mechanism to support small-scale reform opportunities.
We welcome projects in the value range from £20,000 up to £50,000.
Selection criteria
• Projects should demonstrate how they support the strategic priorities for the GGF and reform priorities identified in-country;
• Projects should have clearly defined, SMART outputs and deliverables and demonstrate value for money;
• SSF project partners may be local national or international organisations based in the Republic of Moldova;
• Projects must cover activities which meet Official Development Assistance definitions1;
• Funding allocations for 2015/16 must be spent by 31 March 2016.
How to apply
• Applicants must complete the attached Project Proposal and Project Budget forms. Applicants must be aware that British Embassy Chisinau will accept applications until COB on 19 October 2015 subject to the availability of funds. Projects proposals submitted after the deadline will not be taken into consideration.
Contact
• Applicants must send the completed Project Proposal and Project Budget forms to email: projects.chisinau@fco.gov.uk
Project Proposal (MS Word Document, 31.8KB) Project Budget (MS Excel Spreadsheet, 61.5KB) Value For Money (PDF, 2.85MB, 1 page)
Published 3 August 2015