World news story
Call for proposals 2014-2015 Kosovo and Serbia
The British Embassies in Kosovo and Serbia are issuing a joint call for proposals under its Conflict Prevention Programme 2014-2015.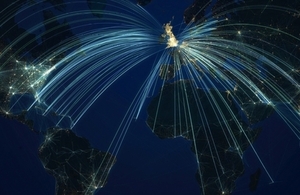 Her Majesty's Government, through its Conflict Prevention programme in the Western Balkans, seeks to support the governments and civil society in their efforts to tackle the legacies of the past and to make the necessary institutional and societal reforms to prevent the recurrence of conflict.
Areas of intervention
Following a recent joint consultation exercise on the normalization of relations between Kosovo and Serbia, proposals to address the following areas are welcome:
further development of public discourse on the 19 April agreement and normalisation of relations in general – enabling greater understanding by citizens in both countries of the effects of normalisation, and contributing to greater debate and inclusiveness in policy development and implementation.

continuing development of sustainable cooperation and relationships between Kosovo and Serbian institutions, public officials, civil society, professional bodies and institutes and communities through the development of joint working, research and policy development activities based on shared common interests.

proposals which develop and foster sustainable relationships between the following sectors in the Kosovo and Serbia are particularly welcome: business and economic (including chambers of commerce); human rights (including reconciliation and Dealing with the Past); the media (including strengthening accurate media reporting and dissemination of positive public outreach); youth; health; academia; culture; the law (including prosecutors, judges, bar associations); tourism; security cooperation.
Duration of projects
Proposed project interventions should last for one year (ending 31March 2015) and would be expected to demonstrate clear evidence of impact at that point. Proposals that demonstrate the potential to extend beyond one year would also be accepted for consideration, however, there is no guarantee that funding would be available beyond March 2015.
Eligibility criteria
Proposals are welcome from:
national and local state institutions
local and national civil society organisations (including international NGOs)
international organisations
Submission of proposals
Proposals are to be submitted in the form of project concepts using the attached project concept form (MS Word Document, 134KB) . If successful, applicants will be required to complete a full project document together with a comprehensive activity based budget (MS Excel Spreadsheet, 15.5KB) .
Proposals should be addressed for the joint attention of Ms Vjosa Shkodra and Ms Jasna Hajder in electronic format to: vjosa.shkodra@fco.gov.uk and jasna.hajder@fco.gov.uk
Deadline for submission: 14 March 2014.
Enquiries
Enquiries should be directed to:
In Kosovo – Vjosa Shkodra on 038 254 700
In Belgrade - Jasna Hajder on 011 306 1025
Published 6 March 2014