Call for project work in Ukraine under FCO Bilateral Fund 2019-20
The British Embassy Kyiv invites proposals for project work in support of reform of decentralisation, human rights and awareness about NATO in Ukraine.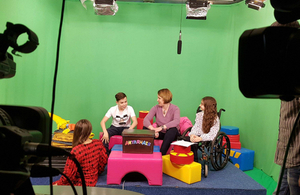 The British Embassy Kyiv invites proposals for project work through civil society organisations alongside with government bodies, in all regions of Ukraine in support of reform of decentralisation, human rights and awareness about NATO in Ukraine, for the period from 1 June 2019 to 15 March 2020. The deadline for submitting proposals is 17.00 (Kyiv time) on 25 March 2019.
Programme
In 2019-20, we will prioritise work through civil society organisations as well as with working with government bodies, in all regions of Ukraine. Successful projects should have sustainable outcomes and should clearly identify the change that will be brought about. They may also build on projects by other organisations, complementing their efforts.
The maximum funding for Reform of Decentralisation and Human Rights projects is £70,000, and £10,000 for Ukraine-NATO projects. This may be in addition to co-funding and self-funding contributions; indeed this will be considered a merit.
Our funding is for the UK financial year 2019-20 only (projects must be implemented and all payments made by 15 March 2020). Administrative costs (office rent, project management and book-keeper rates, utilities, communications, stationery, bank charges etc) must not exceed 8% of the total project budget. We are unable to fund academic courses or research, English language courses, the purchase of IT or other equipment.
The programme will focus on the following areas:
Support to reform of decentralisation
We will seek project proposals aimed at contributing to the successful rollout of the decentralisation process in line with international standards of transparent and accountable budgeting process, capable local self-government and active communities. This work will also contribute to a wider focus on anti-corruption by increasing transparency at the local level, as well as effective communication between government and society, and civil society's ability to form effective networks and coalitions. In addition, we will seek bids in support of fair and transparent local elections.
Human rights
We will seek proposals aimed at supporting Ukraine's successful implementation of her National Human Rights Strategy, increasing respect for equality and non-discrimination for all members of society, in particular, LGBT people and people with disabilities; supporting human rights defenders and strengthening HR monitoring mechanisms in illegally annexed Crimea, as well as keeping the illegal annexation of Crimea on the international community's agenda, including project input in the OSCE and Council of Europe.
Ukraine - NATO
We will seek bids which would raise awareness and understanding of NATO in Ukraine, its values, policies and activities; improve the public perception of NATO among target groups, in particular in the South and East of Ukraine and among young people; and increase the level of debate on peace and security issues. Projects should focus on aspects of NATO's current agenda in Ukraine, the benefits of NATO-Ukraine relations, and the promotion of NATO in schools and universities across the country, including through conferences, seminars, workshops, and digital, multimedia or online activities.
Bidding process
Bidders should fill in the appropriate Project Form (depending on the project budget Project Proposal under £10k (MS Word Document, 212KB) orProject Proposal £10k to £80k (MS Word Document, 213KB)) and include a breakdown of project costs in Activity Based Budget (MS Excel Spreadsheet, 48KB). We will not consider proposals submitted in other formats. Budgets must be Activity Based Budgets (ABB), all costs should be in GBP (not Ukrainian Hryvna). Please refer to further guidance Project Proposal Guidance (MS Word Document, 44.5KB) on filling in the project proposals and budget
Successful bids must demonstrate strong strategic relevance to the areas of programme focus and have a clear focus on delivering change and sustainability.
Successful implementers should be able to receive project funding in GBP (UK pound sterling) and open a GBP bank account for the project. 85% of project funds should be spent before end of December 2019.
Proposals should be sent to the British Embassy Kyiv at Kyiv.Projects@fco.gov.uk by 17.00 (Kyiv time) on 25 March 2019. In the subject line, please indicate the area you are bidding for and the name of the bidder. We aim to evaluate proposals by end of April. Approved projects will commence in June.
Evaluation criteria
Proposals will be evaluated against the following criteria:
fit to programme objectives – the extent to which the proposal addresses the issues

quality of project – how well defined and relevant the outcome is and how outputs will deliver this change

value for money – the value of the expected project outcomes, the level of funding requested and institutional contribution

strength of risk analysis

previous experience of the project team – evidence of the project team's understanding the issue and of its regional activities, ability to manage and deliver a successful project, through work done to date in the area or in related fields

bids that contribute to the Embassy's public diplomacy efforts are especially welcome
Notes
The British Embassy Kyiv reserves the right to carry out due diligence of potential grantees, including seeking references, as part of the selection process.
Bidding is competitive and only selected projects will receive funding. The Embassy reserves the right to accept or reject any or all bids without incurring any obligation to inform the affected applicant(s) of the grounds of such acceptance or rejection. Due to the volume of bids expected we will not be able to provide feedback on unsuccessful bids.
Published 25 February 2019