World news story
Call for Project Proposals Under Democracy and Human Rights Fund
The British Embassy in Phnom Penh is pleased to announce a Call for Project Proposals for the fiscal year 2018-19 under our Democracy and Human Rights Fund.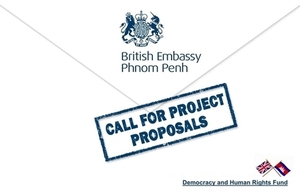 The purpose of this fund is to support British embassy interests and activity by tackling the root causes of human rights violations, strengthening institutions and governance, promoting and protecting human rights, and supporting democracy and the rule of law.
Specific areas of focus are:
Providing support to strengthen future democratic leaders and institutions;
Promoting gender equality by increasing the number of women in political and public life, including in positions of leadership and influence.
We are looking for creative and original ideas which could help us achieve any of the above goals. Successful bids will be for innovative activities that will have the greatest impact and deliver real change.
Budget:
Project budgets should be for a single year of activities, undertaken over the period May 2018 to March 2019. Project can cost no more than £80,000. We are unable to fund multiple-year projects.
Projects not eligible for funding:
Projects focussed on service delivery or projects that support military, religious affairs, construction activities, capital costs, or mainly staff salaries are ineligible.
How to apply:
Interested implementers are invited to submit their Project Concept Form and Activity Based Budget to the embassy by 26 April 2018. The Project Concept and Activity Based Budget forms can be downloaded from the embassy website.
Please submit your Project Concept Form and Activity Based Budget to our Project Coordinator Ms Sovannraksmey Chap at: sovannraksmey.chap@fco.gov.uk by 26 April 2018.
For further information:
Please write to: Ms. Sovannraksmey Chap Project Coordinator Sovannraksmey.Chap@fco.gov.uk
British Embassy
No. 27-29, Street 75
Sangkat Srass Chak
Khan Chamkarmon
Phnom Penh, Cambodia

Published 12 April 2018