World news story
Call for bids: Chevening Alumni project fund 2014-15
This was published under the 2010 to 2015 Conservative and Liberal Democrat coalition government
Invitations for bids for project funding from the Chevening Alumni Fund for projects from 1 May 2014.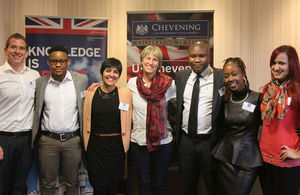 The Foreign and Commonwealth Office is now inviting bids for project funding from the Chevening Alumni Fund for projects from 1 May 2014.
The Chevening Alumni Fund aims to improve the quality and frequency of contact between the FCO's network of posts and our 42,000+ Chevening alumni and between alumni themselves. Projects can be targeted at civil society, the private sector, local or national government, Chevening alumni, and can be local, national or regional in scope.
Who may bid?
Anyone who was awarded a Chevening Scholarship or Fellowship between 1983 and 2012.
Current Chevening Scholars on award are not eligible to bid.
Alumni who were part-funded (e.g. Chevening/OSI, Chevening/HSBC) are also eligible to bid.
Criteria for Bidding
Projects must be aligned with the UK Government's Foreign Policy Priorities and include the active participation of Chevening alumni in both the projects design and implementation.
Bids will be assessed against the following criteria:
Value for money: proposals must be supported by a realistic activity based budget, set out with as much detail as possible. Budgets should be broken down so that it is clear how estimates were calculated. This is a central requirement in evaluating the project proposal and insufficient budget detail is one of the top reasons why projects are rejected;

Evidence of local demand/need: we are particularly interested in funding new or innovative work, which, if successful, could be expanded into a wider project benefiting other funds or be self-sustaining. If relevant, you should set out how the proposal adds value to previous work undertaken;

Evidence of alumni involvement: one of the main aims of the Fund is support links between Chevening alumni. Therefore we strongly encourage all projects to feature Chevening alumni heavily.

Project viability, including capacity of implementing organisation(s): projects should be realistic in the results they aim to achieve and how these will contribute to the long-term achievement of the targets;

Project design, including clear, achievable results: projects must show outputs and outcomes relevant to this programme's targets. It is vital that projects clearly demonstrate how they will address the target areas and show results;

Risk and stakeholder management: risks should be identified and a risk management plan put in place. Proposals should demonstrate how they would engage host governments and main stakeholders. Projects that can stimulate host government support or engagement are more likely to succeed. However, we will continue to support work that challenges host country views, and we do not believe that change is impossible without host government support;
The amount allocated to each financial year will be fixed and unspent funds from one year cannot be transferred to the next. At least 70% of funds will be allocated to projects that are completed in 2014/15 and these projects will have a higher chance of being funded.
How do I bid?
All bids must be submitted via the Chevening Officer at your local British Embassy/High Commission. If you don't know who your local Chevening Officer is please contact fcoscholarships@fco.gov.uk.
Please send your bids to Chevening Alumni – copied to David Crellin-Jones
Bidding is competitive and only selected projects will receive funding. The FCO reserves the right to accept or reject any or all bids without incurring any obligation to inform the affected applicant(s) of the grounds of such acceptance or rejection.
The deadline for bids is Wednesday 23 April 2014.