Cafcass board members announcement
Honor Rhodes OBE has been appointed to serve as a member of the Cafcass Board from 15 June 2012 for three years. Professor Ian Butler has also been re-appointed for a second term from 01 May 2012.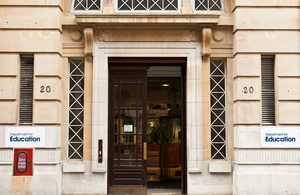 Cafcass looks after the interests of children involved in family proceedings. They work with children and their families, and then advise the courts on what they consider to be in the best interests of individual children.
Tim Loughton MP Parliamentary Under Secretary of State for Children and Families, said:
I am very pleased to announce the appointment of Honor Rhodes, as well as the the re-appointment of Professor Ian Butler, as members of the Cafcass Board.
Honor and Ian will work with the other new board members announced in April, with Baroness Claire Tyler as the new chair, in what is an important year for Cafcass. Together they will help to play a key role in assisting the government achieve the radical reforms set out in our response to the Family Justice Review. I look forward to seeing the new board members supporting and assisting in driving Cafcass's work forward.
Notes for editors
This press notice relates to England and Wales.
The appointment and reappointment process was run in accordance with the Code of Practice issued by the Office of the Commissioner for Public Appointments (OCPA) and was made on merit: political activity played no part in the selection process. However, in accordance with the original Nolan recommendations and the code of practice, there is a requirement for appointees' political activity (if any declared), and other information, to be made public.
| | | | | |
| --- | --- | --- | --- | --- |
| Name | Term of office | Political activity declared | Remuneration | Other public appointments |
| Honor Rhodes OBE | Three years | None | £286.62 per day | Non-executive director of NHS North East London Cluster |
| Prof Ian Butler | Two years | None | £286.62 per day | None |
Cafcass
Honor Rhodes, Director of Strategic Development and Projects, Tavistock Centre for Couple Relationships (TCCR) started her career as a social worker in Tower Hamlets. In 1997 she moved to the charity Family Action as Director of Services, becoming CEO of Coram Family in 2005. After working at the Family and Parenting Institute she moved to TCCR in 2010, where her job is to persuade other agencies to think about the parental couple.
Honor's particular interest is in effective interventions with chaotic, chronic multi-problem families. She writes short guides for practitioners including, 'A Guide to helping troubled families' (FPI 2007 and 'Knowing what you do works: measuring your own effectiveness with families, parents and children' (FPI 2009). She has just written, 'A short guide to working with co-parents: why we don't, why we should and how we could' (TCCR 2012).
Honor is a non-executive director of NHS North East London Cluster and sits on her local clinical commissioning group, she is a trustee of WAVE Trust and an advisor to the BBFC advisory panel on children's viewing.
She was awarded an OBE in July 2010 for her work with children and families.
Professor Ian Butler is a professor of social work at the University of Bath. Ian has a strong commitment to working to promote and improve the interests of children and dealing with a wide range of front line services.
DfE enquiries
Central newsdesk - for journalists 020 7783 8300
General enquiries - for members of the public 0370 000 2288
Published 15 June 2012