Cadets mark national Trafalgar Day in London
Sea Cadets led 550 young people from across the Cadet Forces as they celebrated the historic 205th anniversary of the Battle of Trafalgar with a spectacular show in Trafalgar Square on Sunday 24 October 2010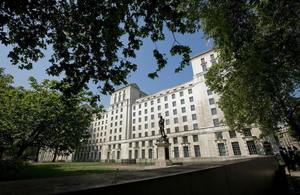 Sea Cadets led the formal parade and marching band as it made its way from The Mall to Trafalgar Square where they put on club and cutlass displays and a traditional window ladder display.
The First Sea Lord, Admiral Sir Mark Stanhope, took the salute at the national Trafalgar Day parade. He said:
Trafalgar Day is a touchstone for the Royal Navy and the public as a whole - reminding us of our proud naval traditions and linking that past with the vital role played by the Navy around the world today.
It is wonderful to see that the values and skills of Nelson's time are still with us and the cadets should be immensely proud of their performance today; they are all fine examples of the qualities that the Armed Forces community teaches and promotes.
Also present were the Secretary of State for Defence, Dr Liam Fox, and His Royal Highness Prince Seeiso Bereng Seeiso of Lesotho, who earlier this year welcomed an expedition of cadets into the southern African country.
Dr Fox said:
It was a pleasure to be here today attending the Sea Cadets' national Trafalgar Day parade in this year of Cadet150.
The Sea Cadets, joined by Army and Air Force cadets, were well-drilled and they should be very proud of the variety of skills that they showed here today. I would like to offer my thanks and praise to all of the cadets' organisations.
The educational and developmental opportunities that they provide to young people are as valuable as ever, and the experience of working with them is just as rewarding for those adults who volunteer to help them.
These cadets are true role models for young people, and the cadets' organisations show the 'Big Society' at its best, working together, without boundaries.
The event is the highlight of the Sea Cadet calendar when cadets aged 12 to 18 gather from all over the country.
It is seen as a reflection of the hard work, dedication and passion these young people have invested throughout the year in their respective cadet activities and of the consistent support of the volunteers who work with them.
Published 25 October 2010