Cadet150 celebrated on Britain's oldest floating warship
Cadets marched on the deck of HMS Trincomalee, based in Hartlepool, in celebration of one of the oldest and most successful voluntary youth …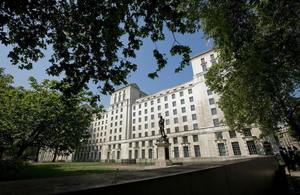 Cadets marched on the deck of HMS Trincomalee, based in Hartlepool, in celebration of one of the oldest and most successful voluntary youth organisations in the world, with origins back to 1860 - just a few years after the classic frigate was serving in the Crimean War.
A marching band from Durham and Cleveland Army Cadet Forces played for visitors while Her Majesty's Lord-Lieutenant of County Durham, Sir Paul Nicholson, started the official celebrations.
Speaking to VIP guests and cadets, he said:
The young may be our future, but they are also a vital part of our present. Each of them has unique gifts to offer to one another within the cadet movement and also to society.

I thank them all for what they do by keeping the cadet spirit very much alive and I urge you to help them celebrate its very special year.
Her Majesty the Queen is official patron of the Cadet150 celebrations and hosted a reception in Buckingham Palace in February for Cadet Ambassadors from all over the UK.
One of the events taking place later this year will see 12 cadets taking part in an exciting 150-hour-long yacht voyage in the North Sea when they will sail 150 miles (240km).
They will bid farewell to North Shields from the Royal Quays on Monday 30 August and expect to return on Saturday 4 September.
Lieutenant Colonel Tony Laker from the Cleveland Army Cadet Force organised the celebrations on board HMS Trincomalee:
This is a wonderful successful start to what we hope will be a brilliant series of events," he said. "We are looking forward to the individual events over the next few months throughout the region. We do hope many people will come and find us, get to know us, and choose to join us as both cadets and adults.
The cadets and instructors hope that through their enthusiasm they can encourage others to come along as young people or adult instructors and live the adventure. Previous military experience is not required to join the Cadet Forces.
Published 19 May 2010