News story
Cable welcomes big rise in apprenticeship numbers
The Statistical First Release shows that apprenticeship numbers have risen across all age ranges and levels of training across the apprenticeships…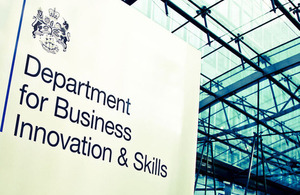 The Statistical First Release shows that apprenticeship numbers have risen across all age ranges and levels of training across the apprenticeships programme.
The data shows that there were 442,700 apprenticeship starts in the full 2010/11 academic year (final data for 2009/10 shows 279,700 starts).
Business Secretary Vince Cable said:
"This Government's unprecedented investment in apprenticeships is working for businesses and creating long term career opportunities for record numbers of trainees.
---
**"I'm particularly pleased that vital sectors like construction, manufacturing and engineering are continuing to back apprenticeships, despite tough economic times. By helping firms build a stronger skills base, this investment puts businesses on solid foundations to deliver sustainable growth and a more balanced and inclusive economy. **
---
"The Government will continue to improve and strengthen the apprenticeships programme to drive up standards, cut bureaucracy for smaller firms and deliver more advanced level and high tech training."
Of the 442,700 apprenticeships starts between August 2010 and July 2011 there were:
292,700 Intermediate Level apprenticeship starts (2009/10 figure 190,500);
147,900 Advanced Level apprenticeship starts (2009/10 figure 87,700);

2,100 Higher Apprenticeship starts (2009/10 figure 1,500).

128,300 apprenticeship starts by those aged under 19 ( 2009/10 figure 116,800);
138,900 apprenticeship starts by 19-24 year olds (2009/10 figure 113,800);
175,500 apprenticeship starts by those aged 25 and over (2009/10 figure 49,100).
The largest sectors were:
Business, Administration and Law with 130,290 apprenticeship starts (76,590 in 2009/10);
Retail and Commercial Enterprise with 100,630 apprenticeship starts (61,620 in 2009/10);
Health, Public Services and Care with 86,120 apprenticeship starts (44,150 in 2009/10).
Apprenticeship starts in key growth sectors remain substantial:
Engineering and Manufacturing Technologies with 47,020 apprenticeship starts (37,860 in 2009/10);
Construction, Planning and the Built Environment with 26,560 apprenticeship starts (25,210 in 2009/10);
Information and Communication Technology with 19,160 apprenticeship starts (12,570 in 2009/10).
Notes to editors:
---
The Post-16 Further Education and Skills Statistical First Release is at http://www.thedataservice.org.uk/statistics/statisticalfirstrelease/sfr_current.
Provisional data for the full 2010/11 academic year (August 2010 to July 2011) provides an early view of performance and will change as further data returns are received from further education colleges and providers. Figures for 2010/11 will be finalised in the January 2012 Statistical First Release.
Apprenticeships are the central pillar of an improved, employer led skills system that will help drive growth. Research shows that apprenticeships help employers improve productivity and give them a competitive edge. Employers recoup their investment rapidly, with most apprenticeships paying back in less than three years.
Funding for apprenticeships has been increased in 2011-12 to over £1.4bn.
On 22 July 2011, the Prime Minister announced details of a £25m fund to support up to 10,000 Advanced Level and Higher apprenticeships. This new fund will support the expansion of apprenticeships up to degree equivalent in companies, particularly SMEs, where there is unmet demand for the higher level skills.
For the latest apprenticeship opportunities visit www.apprenticeships.org.uk
BIS's online newsroom contains the latest press notices, speeches, as well as video and images for download. It also features an up to date list of BIS press office contacts. See http://www.bis.gov.uk/newsroom for more information.
Notes to Editors
Contact Information
Name BIS Press Office Job Title
Division COI Phone
Fax
Mobile
Email NDS.BIS@coi.gsi.gov.uk
Published 27 October 2011