Press release
Cable: industrial strategy driving the recovery
Vince Cable announces new funding to address skills shortages and build on the success of the UK's automotive industry.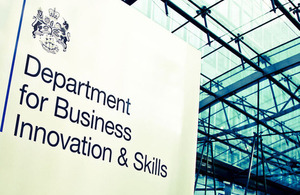 Business Secretary Vince Cable today (20 October 2014) announced new funding to address skills shortages and build on the success of the UK's automotive industry.
Speaking at a CBI event in London with business and political leaders to discuss industrial strategy, Vince Cable revealed that 6 businesses will get £5.4 million of government-industry investment to help them win and keep work with big automotive manufacturers. Dr Cable also announced a further £10 million of government money would be made available in a new funding round.
Vince Cable said:
Through our industrial strategy we are working in partnership with the automotive sector as it goes from strength to strength, with today's investment by Ford and the government in Dagenham the latest positive outcome.

Our new funding will build on this progress and help to lock in sustainable growth in the supply chain. On average only a third of parts going into vehicles manufactured here are sourced from the UK. With a potential £3 billion in opportunities identified for UK based vehicle and engine manufacturers, we need to strengthen our supply chain to take advantage of this opportunity.
The £5.4 million includes a £2.7 million government investment from the Employer Ownership Fund automotive supply chain competition which is then matched by the firms. The winners from the first round are:
Benteler in Corby
Brose in Coventry
Getrag in Halewood
Gestamp in Sedgefield
Nifco in Stockton-on-Tees
Unipres in Sunderland.
The news comes on the same day that Ford announced a new £190 million investment in their engine plant at Dagenham. Supported by £8.9 million from the government's Regional Growth Fund, Ford is creating 318 new jobs connected with this investment.
Speaking at the CBI Industrial Strategy event the Business Secretary said:
Industrial strategy has been at the heart of the recovery over the past 2 years. We have made long-term commitments across a raft of areas from aerospace to automotive and international education.

Over £10 billion of long-term public-private investment is making Britain more capable and more competitive. Industrial policy isn't a short-term fix and the enduring partnerships we have established with businesses will lock in sustainable growth.
Notes to editors
Applications for the 2nd round of the Employer Ownership Fund for the auto supply chain – worth £10 million – will open from 3 November 2014.
The Automotive Council report 'Growing the Automotive Supply Chain – The Road Forward' identified at least £3 billion worth of additional contractual opportunities available for our UK based supply chain companies or for those who are willing to invest in and set up within the UK.
The government's industrial strategy is giving business the confidence to invest – securing high skilled jobs and a stronger economy. It has 5 main strands:

sectors: government and business are working together to increase global competitiveness, support innovation and maximise export potential
skills: giving businesses the chance to lead on developing the right skills and expertise, rather than industry training needs being decided by government
technologies: investing in 8 great technologies where the UK has the research expertise and business capability to become a world leader
access to finance: helping businesses get access to the finance they need to invest in people and equipment and to grow
procurement: developing UK supply chains and creating a simpler and more transparent public sector procurement system that is more open to small and medium sized businesses
Published 20 October 2014