Press release
Cabinet Office statement on industrial action – 11am
Francis Maude made a statement on industrial action on 30 November 2011.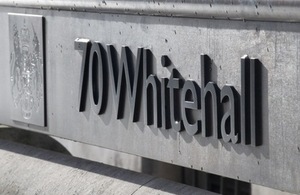 The Minister for the Cabinet Office, Francis Maude, said:
I want to thank the majority of dedicated and committed public sector workers who have turned up to work today to deliver essential services.

I can reassure the public that we are doing all that we can to keep essential services open. Our rigorous contingency planning is in place across all sectors to limit the impact of the strike action. Early indications show it is working well and that the majority of key public services remain open. 

Today's strike is inappropriate, untimely and irresponsible, especially while talks are ongoing. Responsibility for any disruption which people may experience today lies squarely with union leaders.

Claims this morning that there are no negotiations going on are simply not true.  There were formal discussions with the Civil Service unions only yesterday and there will be formal discussions with the teaching unions tomorrow and health on Friday.  In addition, there are frequent informal contacts between the Government and the TUC.  All of this underlines how indefensible today's strike is while these talks at scheme level are moving forward.
Update on public services
Civil Service
Early indications show significantly less than a third of civil servants are taking strike action today.
Borders
Early signs show contingency plans are minimising the impact of strike action, but waiting times at some ports may still be slightly longer than normal.
Overnight the borders have been managed without any major problems, and are currently operating normally.
Currently there are no reports of excessive queues at any port. Additionally more staff than expected have turned up to work at some ports and airports.
There have already been several seizures this morning, for example:
1.5kg of cocaine found at Stansted
Job centres
In the whole of the UK only 18 job centres out of over 900 are closed.
Health
The NHS has made preparations for the effects of some staff going on strike. This has meant rescheduling some operations and outpatient appointments. Services such as emergency ambulance responses, accident and emergency departments, maternity, chemotherapy and dialysis are available, but members of the public who had planned non-urgent operations or appointments could be inconvenienced.
Schools
The current indication is that many heads, teachers and support staff have tried hard to keep schools open.
 
Current data shows: 
schools expecting to be open: 13%
schools expecting to be partially open: 13%
schools expecting to be closed: 58%
schools for which the status is currently unknown: 16%
This information relates to state-funded schools in England, including Academies and Free Schools.
Ministry of Justice
Probation
Probation Trusts are prioritising essential work to protect the public.
Prisons
Where possible public sector prisons are running as full a regime as possible. Any disruption to routines is minimal.
Notes to Editors
1. For information about public services please visit [https://www.gov.uk/industrial-action-strikes/overview](https://www.gov.uk/industrial-action-strikes/overview
Published 30 November 2011