Cabinet Office statement on industrial action
Statement by Francis Maude about industrial action.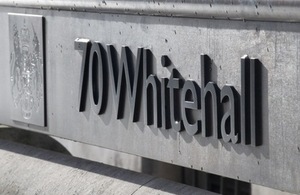 10 May 2012
CAB 032-12
Minister for the Cabinet Office, Francis Maude, said:
It is very disappointing that a handful of unions insist on carrying on with futile strike action which will benefit no one. We would urge these union leaders to reconsider their position.  Pension talks will not be reopened and nothing further will be achieved through strike action.

In March we set out our final proposed agreements on pension reform following more than a year of intensive discussions with trades unions. Our reforms ensure that public sector pensions will remain among the very best available and that they can be sustained for the future.

Public sector workers are being asked to work a bit longer and pay a bit more, but they will continue to get a guaranteed pension which is index-linked and inflation-proofed.  Most staff on low and middle incomes will receive a pension at retirement as good as what they expect today, and for many it will be even better.

In the meantime, I want to reassure the public that we are doing everything we can to minimise any disruption. Rigorous contingency planning is in place across all sectors to limit the impact of the strike action and to ensure that key public services remain open. 

Overnight the borders have been managed without any delays, and we will continue to deploy staff to manage peak arrivals during the day. For example, staff in northern France have prevented 18 people attempting to evade our border controls by hiding in lorries and they have been handed over to French authorities.

In the Civil Service we expect that more than three quarters of civil servants will be working normally today.

For information about public services I would urge people to visit www.direct.gov.uk.
Published 10 May 2012