Press release
Cabinet Office statement on industrial action
Francis Maude made a statement on 29 November 2011 ahead of planned industrial action.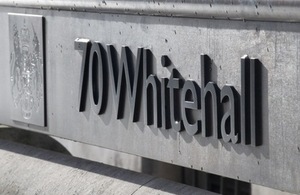 The minister for the Cabinet Office, Francis Maude, said:
Tomorrow's strike is inappropriate, untimely and irresponsible, especially while talks are ongoing.

We have listened to the concerns of public sector workers and that is why at the beginning of this month we put an improved offer on the table.  The offer ensures that public sector pensions will remain among the very best available while also being fair and affordable to taxpayers.

While discussions are continuing I would urge public sector workers to look at the offer for themselves rather than listening to the rhetoric of their union leaders.  These are the sort of pensions that few in the private sector can enjoy.

In the meantime, I want to reassure the public that we have done everything we can to minimise disruption. Rigorous contingency planning is in place across all sectors to try and limit the impact of the strike action and to ensure that key public services remain open. 

However, we estimate that around 90% of schools in England will be closed tomorrow and passengers may face longer than normal waiting times at airports and ports. Council services such as refuse collection, street cleaning and libraries are also likely to be affected.

There will also be an impact on health services and some organisations have had to reschedule elective surgery and outpatients appointments so that urgent cases can be prioritised. But, emergency and critical care services will be operating normally and 999 calls will be responded to as usual.

Let me say again that the timing of this strike is indefensible and wrong.  Union leaders should be responding in a responsible manner to reach agreement. A strike will not achieve anything other than causing inconvenience to hard working people at a time when we are trying to get the economy back on its feet.
Notes to editors
Published 29 November 2011