Press release
Cabinet Office Spending Review settlement
The Cabinet Office has announced today that it will reduce its core resource budget by 35% in real terms by 2014-15.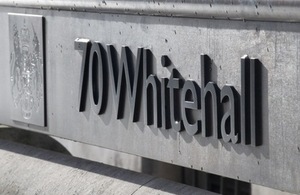 20 October 2010
In line with the government's determination to tackle Britain's deficit, the Cabinet Office has announced today that it will reduce its core resource budget by 35% in real terms, from £280m in 2010-11 to £200m by 2014-15.
Over the course of the Spending Review period, the department's administration budget will be reduced by 33% with a 28% reduction in capital spending.
On top of its existing responsibilities the Cabinet Office will also take a range of new responsibilities: in total this will mean that the Cabinet Office resource budget will increase by 28%.
All figures are in £billions
|   | 2010-11 | 2011-12 | 2012-13 | 2013-14 | 2014-15 |
| --- | --- | --- | --- | --- | --- |
| Resource DEL* | 0.3 | 0.4 | 0.3 | 0.2 | 0.4 |
| Capital DEL  | 0.0 | 0.0 | 0.0 | 01 | 0.0 |
| Total DEL | 0.4 | 0.5 | 0.4 | 0.3 | 0.5 |
*In this table, Resource DEL excludes depreciation
The department will manage its budget reductions by:
reducing the use of consultants, streamline back office services, rationalise the estate and reduce its costs, reduce staff costs and the costs of running each Directorate and renegotiate supplier contracts.
a reduction of 25% across the period in the costs of providing support to the Prime Minister, including reducing travel costs through the use of more scheduled flights where possible rather than charters, energy efficiency and wider efficiencies.
The Cabinet Office will also take forward a number of ideas suggested under the Spending Challenge through the Efficiency and Reform Group. These include:
implementing new standard guidance on government travel policies, bringing them in line with industry best practice, to save £100m per year;
initiating a programme to centralise the procurement of commonly used goods and services bringing efficiency gains of over £400m per year.
The Cabinet Office will also implement the government's response to Sir Philip Green's review into government efficiency by applying best business practice to procurement.
The Cabinet Office new responsibilities and funding will include:
Around £470m support for the Civic Society organisations sector, including a £100m fund to help charities, voluntary groups and social enterprises make the transition to a tougher funding environment, to work with us to build a big society, and make the most of the opportunities it will bring;
A National Citizen Service which will support young people from a mix of different backgrounds to develop skills and engage with their communities - sufficient to fund 10,000 places in 2011/12 and 30,000 in 2012/13;
The Community First Fund which will support new and existing small organisations in the most deprived areas;
The Coalition's Electoral and Constitutional Reform agenda - with one off costs of £95m most of which will fall in the final year of the settlement.
It will also be allocated £120m in the last year of the settlement for the European Parliament elections.
It will receive £85m to support the introduction of individual electoral registration (IER) in 2014 to help tackle electoral fraud by moving away from household registration and confirming identities through secondary sources.
It will also fund the Boundary Review to reduce the number of MPs sent to the House of Commons - worth £10m over four years.
In addition to these new responsibilities and to reflect greater transparency in government budgets the Cabinet Office budget will now also include resources transferred to the department to fund DirectGov and the Office of Government Commerce which would previously have been allocated as Non-Departmental Government bodies.
Speaking about the settlement, Minister for the Cabinet Francis Maude said:
We have always said we will focus on cutting the deficit in a way that is fair by reducing cost in the centre to ensure essential front line services and the most vulnerable are protected.  In the Cabinet Office, the work led by the Efficiency and Reform Group, has already resulted in millions in efficiency savings, which will help to protect jobs on the front line and protect the services on which we most depend.

Our settlement shows that we are cutting the costs of government whilst driving forward an ambitious agenda. We will create the National Citizens Service and provide transition funding to help charities and voluntary groups take their place in the Big Society. As well as this, we are cutting red tape and opening up new opportunities for civil society through radical reform of the public services, driving forward the government's transparency agenda and changing the way government does business
CAB 176-10
Notes for editors
Enquiries relating specifically to the Cabinet Office's settlement should be addressed to Samuel Heath on 020 7276 1196.
Media enquiries relating to overall Spending Review should be directed to the Treasury Press office on 0207 270 5238
Published 20 October 2010