Government response
Cabinet Office responds to Independent article about the Civil Service
Response to a comment piece in the Independent about expert advisers and morale among Senior Civil Servants.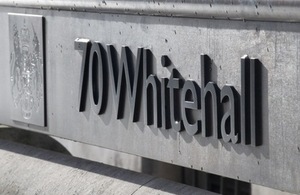 Cabinet Office has responded to suggestions by a comment piece in the Independent that morale among Senior Civil Servants is low and that bringing in expert advisers is the 'constructing of a sort of shadow senior civil service'.
A Cabinet Office spokesperson said:
There is no category of expert advisers. Previous administrations always had ways of bringing outside talent into the Civil Service on a short term basis. Our Civil Service Reform plan simply made the existing rules for their appointment more transparent.

And our own survey of 3,764 Senior Civil Servants shows that they are overwhelmingly positive about their jobs - 97% are interested in their work, with only 1 in 20 considering leaving their job, comparable with what you would expect to find in any high-performing organisations with good, dynamic staff. Put quite simply, the suggestion that war weary senior civil servants are considering resigning en masse, beaten down by constant tussles, just doesn't stand up. The resignation rates in 2011 to 2012 were 2.8%, compared with 2.9% in 2009 to 2010.
Published 22 February 2013