Press release
Cabinet Office People Survey 2010
The results of the 2010 People Survey for the Cabinet Office have been published.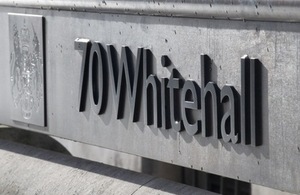 The 2010 people survey ran during October 2010 and had a response rate of 83%.
The survey is part of the annual Civil Service Survey, the second time a civil service-wide survey has been conducted. It is the largest of its kind in Britain, involving nearly 400,000 staff from across the Civil Service.
The results for the whole of the Civil Service are available to view on the Civil Service website. 
Further information
The Office of Government Commerce (OGC) joined the Cabinet Office on 15 June 2010. They ran a separate people survey during the same period and had a response rate of 94%.
Buying Solutions is a trading fund and has also now become part of the Cabinet Office following the OGC machinery of government change.
Additional machinery of government changes have been included in the Cabinet Office results. They are The Constitutional Reform Group which joined the Cabinet Office on 2 June 2010 and Directgov which joined the Cabinet Office on 21 July 2010.
Published 8 December 2010