Cabinet Office calls on IT community to engage in open standards consultation
People across the country are being invited to give their views on the definition of open standards for government.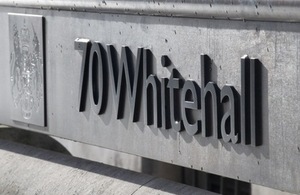 People across the country are being invited to give their views on the definition of open standards for government the Cabinet Office Minister Francis Maude announced today (9 February 2012).
The consultation is named 'Open standards: open opportunities flexibility and efficiency in government IT' and focuses on open standards for software interoperability, data and document formats in government IT.
The results of the consultation will inform:
the definition of open standards in the context of government IT
the meaning of mandation and the effects compulsory standards may have on government departments, delivery partners and supply chains
international alignment and cross-border interoperability
Francis Maude, Minister for Cabinet Office said:
The government's ICT strategy is delivering savings across the board and will make sure we have an IT system fit for the 21st Century.
"We are committed to implementing open standards and want to create a level playing field for open source and proprietary software. Open standards for software and systems will reduce costs and enable us to provide better public services. We want to get this right; so we want to make sure everyone has the opportunity to have their say on this matter.
Liam Maxwell, Director for ICT Futures in the Cabinet Office said:
It's vitally important we get as much feedback from the IT community as possible. There was a great response to the UK government open standards survey we ran last year and we've proposed a policy that takes on board what people said. Some questions remain however, so this formal consultation is taking place so that we can stimulate a transparent debate and gather further evidence.

There's a lot of strong opinion on this subject - so I'm urging people to take this opportunity and let us know what they think.
The government ICT strategy, published on 30 March 2011, has already committed the government to creating a common and secure IT infrastructure based on a suite of compulsory open standards, adopting appropriate open standards wherever possible.   
Visit the open standards consultation site to share your views.
Findings from the open standards survey were published in November 2011 and are available on the Cabinet Office website.
Published 9 February 2012