World news story
Cabinet meeting actions Wednesday, 4 September 2013
From:

Part of:

Published:

5 September 2013
This was published under the 2010 to 2015 Conservative and Liberal Democrat coalition government
Governor Ric Todd, chaired the 19th meeting of the Turks and Caicos Islands Cabinet at the House of Assembly Building on Grand Turk.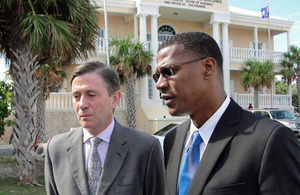 All Ministers were present. When the meeting convened, it was agreed that prayer be offered by the Governor on the occasion of his last Cabinet meeting.
At this meeting Cabinet:
Heard a presentation by Mr Gary Brough of KPMG on the Turks and Caicos Islands Hospitals Actual Clinical Costs audit. Cabinet underlined both the importance of health policy and that the clinical costs of the healthcare contract were a significant element of TCIG spending. It considered in detail the issues highlighted by the KPMG audit. It agreed that the Minister of Health would, in the first instance, arrange to pass to the Contract Management Board a number of issues and areas for concern which Cabinet discussed and highlighted. It further agreed to hold a further discussion on the basis of feedback from the Contract Management Board and a paper from the Minister of Health either at its next meeting or the first meeting in October;

Agreed to a proposal from the Minister of Education, Youth, Sports and Culture that Mr Quinton Elry Lightbourne be appointed Chairman of the Higher Education Advisory Board (HEAB). It noted that he was currently a member of the HEAB and further agreed to keep under review and consider in due course whether to appoint an additional member to the Board to take the position vacated by Mr Lightbourne;

Considered a paper from the Minister of Finance about the draft Development Agreement with Beaches and agreed that, subject to the clarification of one issue, the Governor should sign the Agreement;

Taking account of further advice from the Attorney General, following the 18th meeting of Cabinet on 21 August, returned to its discussion of a proposal from the Minister of Border Control and Labour for an amendment to Immigration Regulations to permit Permanent Residence Certificates to be granted to certain categories of investors. Cabinet reaffirmed its approval for the policy intention of the Regulations and considered its provisions and clauses in detail, in particular those relating to definitions and controls. It asked the Minister and the Acting Attorney General to bring back to the next Cabinet a final draft of the Regulations, which would also highlight those few issues remaining for Cabinet's decision;

Noted and welcomed that the contract of the Chief Financial Officer, Mr Stephen Turnbull, is extended to 31 March 2016.
Further information on the issues addressed by Cabinet will be provided by Ministers in due course.
Cabinet noted that the Premier would be away from the islands on official duty from 6 – 15 September attending the mid term-meeting of the Heads of Overseas Territories on Gibraltar and that the Hon Akierra Missick, Deputy Premier, would be Acting Premier for this period.
The Governor thanked all his Cabinet colleagues for the opportunity to work with them.
Cabinet will hold its next meeting on 18 September 2013.
Document information
Published: 5 September 2013