News story
C-Enduro: World Wildlife Fund research project
ASV collaborates with National Oceanography Centre on WWF survey of marine life in the Celtic Sea.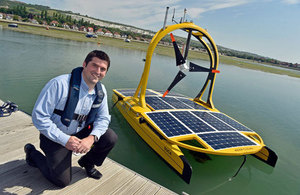 A new wildlife research project in the Celtic Sea is using robotic marine vehicle technology developed through SBRI support.
The National Oceanography Centre is working with the World Wildlife Fund to discover why the area is so attractive to marine predators such as dolphins and seabirds.
Autonomous surface vehicle
NOC is using a submarine glider and an autonomous surface vehicle in the Celtic Deep area of the Celtic Sea. The surface vehicle, C-Enduro, was developed by ASV after the company won an SBRI development contract with NOC.
C-Enduro is a long-endurance autonomous surface vehicle that can harvest solar and wind energy from the marine environment and can remain offshore for several months. For this 3-week project, it will carry cameras, marine mammal acoustic detectors and meteorological equipment. ASV will control the vehicle from its base in Portchester.
Marine hotspots
NOC's Prof Russell Wynn is co-ordinating the research. He said "The Celtic Sea contains known hotspots for iconic and highly mobile marine animals such as the mighty Fin Whale and the globally threatened Balearic Shearwater. However, we need to understand why these hotspots are so attractive to these animals.
"Marine robotic technologies give us the opportunity to have a persistent presence in these areas, and are changing the way in which we conduct science in the marine environment."
He added: "The two robotic vehicles are bristling with novel sensors that will act as our eyes and ears in the water, observing and detecting seabirds and marine mammals. The vehicles will also be continuously collecting data about weather conditions at the sea surface, the temperature and salinity of the water column, and the distribution and abundance of plankton and fish prey. The combined dataset will provide vital information about biodiversity hotspots in our seas."
C-Enduro: A boat that goes the distance
SBRI: the Small Business Research Initiative
SBRI connects public sector challenges with innovative ideas from industry.
Geraint West, Director of National Marine Facilities at NOC, said: "Oceanographic research at sea can be very costly so new technologies that are cheaper and more efficient are really attractive. SBRI has been a very effective way to identify and engage with new suppliers with novel solutions to our needs."
Dan Hook, Managing Director of ASV, added: "SBRI has been fantastic for us. It's helped us move from an idea to a product that we know suits the need of the end user.
Published 25 August 2015