Bypass Whitehall and scrap outdated byelaws
Local Government Minister Grant Shapps has today outlined plans to give councils a new power to review and revoke outdated byelaws. This means…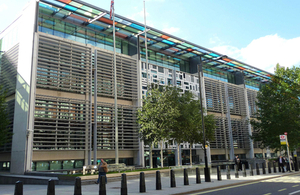 Local Government Minister Grant Shapps has today outlined plans to give councils a new power to review and revoke outdated byelaws.
This means that old local rules, like those about dickey straps in Hammersmith, fish frying in Gloucester, and carpet beating in Blackpool will be a matter for these areas, rather than central government.
As part of wider Government plans to hand power back to councils and communities the planned reforms will mean that councils can create new byelaws or get rid of old ones without seeking permission from Whitehall.
Under the current regime, councils would have to first contact the Secretary of State for Local Government for a stamp of approval before they can abolish outdated laws.
Instead, under these new reforms councils would be required to consult with local residents based on an assessment of why a law should be created or cancelled - with no need to involve central Government at all.
Existing byelaws which councils might choose to scrap include:
Byelaws relating to the use of dickey straps (the leather straps which hold the driving box of horse drawn carriages in place) and skidpans (A shoe or clog, attached to a chain, and placed under the wheel of a wagon to prevent its turning when descending a steep hill) from 1913 (London Borough of Hammersmith & Fulham Council)
An 1887 byelaw preventing the beating of carpets or the placing of any clothing or towels on the Promenade (Blackpool Borough Council)
A 1956 byelaw which prohibits the drying of clothes in various parks in Whitstable. (Canterbury City Council).
A 1905 byelaw relating to the transport of dead horse carcasses. (London Borough of Hammersmith & Fulham Council)
And Gloucester City Council has told Ministers that they have unearthed 60 old bylaws they want to revoke and not replace, including:
A 1911 byelaw requiring domestic servants to register with the council;
A byelaw introduced in 1947 regarding the cleaning of ashpits and cesspools; and
A 1968 byelaw regulating fish frying and 'other offensive trades'
It's old byelaws like this that the new legislation will give councils the freedom to revoke without coming to Whitehall for the stamp of approval.
Grant Shapps said:
It should not take a rubber stamp from central Government to scrap outdated local laws. For far too long, councils have had to jump through hoops just to get things done for residents. That's why I want councils to use this new power I am offering them, and keep a watchful eye out for outdated rules that will soon be so much easier to scrap.

But people should also be free to contact their council with their concerns and have them addressed easily, so councils should also look to set local byelaws that improve their area - with no ministerial involvement whatsoever.

This is part of wider Government plans to devolve power straight from Whitehall to Town Halls and to communities, so they can improve the quality of their area for themselves.
Notes to Editors
Presently, byelaws have to be confirmed by the Secretary of State before they come into force. Ministers believe this process is not always necessary and are proposing that authorities be allowed to make and revoke byelaws without always being confirmed by the Secretary of State.
2. Subject to legislative timetable, councils will be able to use these new powers from early New Year.
To scrap byelaws, councils will have to consult their communities. Accountability will become a truly local matter, with local consultation on the proposed byelaw ensuring that those affected by any new byelaw have an opportunity to comment upon it.
4. The changes will apply to councils in England only.
Twitter
Keep up to date with the Department by following us on Twitter (external link).
Media enquiries
Visit our newsroom contacts page for media enquiry contact details.
Published 31 August 2010