Busy holiday season for Culdrose rescue crews
The summer holiday season has started with a record six call-outs in one weekend for the Royal Navy Search and Rescue helicopter squadron based at Royal Naval Air Station Culdrose.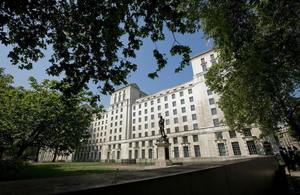 Last weekend was the busiest weekend of the year so far, with the duty crews of 771 Naval Air Squadron called out a total of six times between Friday and Sunday.
The crews took part in rescues around Cornwall, one of which involved winching to safety a four-year-old boy who had fallen onto rocks in Whitsand Bay.
The increase in the number of call-outs came as no surprise to the men and women who fly and maintain the distinctive red and grey Sea King Search and Rescue helicopters:
The summer season always brings an increase in the number of jobs, as the schools break up and the weather improves," said Lieutenant Commander Martin Shepherd, Commanding Officer of 771 Naval Air Squadron.

We train every day, and we tailor that training to the types of job we expect to get called out to.
To illustrate that point, Friday's duty crew had just returned from a beach landing, winching and co-operation exercise with the local lifeboat station when they were called out to the first of three rescues that would see them working until late into the evening.
The pilots, Flight Lieutenant Jon Owen and Lieutenant Jon Duke, along with their observer, Lieutenant Commander Paul Robertson, and aircrewman Petty Officer Shaun Knights, formed the same crew that responded to three more call-outs on Sunday.
In total, the four men spent nearly ten hours in their aircraft over their two days on shift.
Published 3 August 2012